Patrons of the Bootleg DVD industry in Guyana are expressing mixed feelings about the establishment of 8 state-of-the-art 3D cinemas that will be built in the Giftland Mall complex currently under construction at Pattensen, East Coast Demerara (ECD).
On September 20, President of Caribbean Cinemas Edward Carrady and Giftland Mall Chief Executive Officer (CEO) Ian Ramdeo signed the memorandum of understanding which facilitated the advancement of plans aimed at constructing the much anticipated cinemas.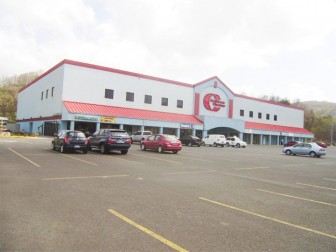 It should be noted that though the Astor Cinema continues to operate, its patronage has diminished. Persons have indicated that their discontinued support of this establishment stemmed from reasons ranging from the "dilapidated state of the structure," to the "unsavory atmosphere" of the cinema.
At a news conference last week, Carrady had proudly revealed that among the many amenities that will be offered in the theatres being built by his company are plush stadium seating in four of the eight cinemas, state-of-the-art digital sound systems, digital projection and air conditioning. He also stated that because the cinemas will be utilizing a digital system, it will enable them to feature films at the same time they are being released in the United States, Europe, and other countries that benefit from official movie releases. "Guyana will no longer have to wait three of four months to get a good bootleg of a new movie," he said.
Curious to know what impact this development would have on the Guyanese populace, particularly those who would frequently purchase pirated movies, Stabroek News visited various popular retailers of pirated DVDs and sought to ascertain where they stood on this issue. Many patrons were completely unaware of the initiative, but there were also many who had already begun to consider the issue.
According to one man who "has been buying pirated DVDs for as long as I can remember: I does buy dem cause prices cheap." He also stated that even though in many cases the quality of the DVD might be poor, "it's a cheap way to get the movies I want to see."
When asked if the cinemas would impact whether or not he would continue to buy pirated movies he responded that he has to wait and see what ticket prices would be. This position was shared by a large number of persons.
The bootleg industry, however, is not without its patriotic support base. At least 3 of the individuals approached related that they prefer to enjoy a movie in the comfort of their homes.
"I don't really like going out, but I still like watch movies, so I does just ask meh son fuh by one at the market and I does watch it at home," related one woman.
Another man stated, "I is don't able with all de wutlessness dat does go on at dem places," making references to his past experiences in some of Guyana's older cinemas, "I gon buy me movie and watch it right at me."
As plans to revive the cinema experience progress, it is quite clear that it is way too soon to determine how the industry will be received by the Guyanese public.
Carrady has expressed optimism that the service provided by his company will be exceptional and will entice all who experience this product to show continued support.
The sum total of the investment being made by Caribbean Cinemas is approximately US$3 million and the theatres are expected to be completed by March of 2013.