A 44-year-old security guard was found dead with his hands tied at a construction site opposite the Guyana Defence Force (GDF) farm at Garden of Eden, East Bank Demerara, around 6 am yesterday.
Alwin Glasgow of Sub-lot 4, Relief, was found dead by a farmer who farms next door to his work place. Glasgow was apparently hit in the head with a piece of wood, since a wood and a knife were found next to his body. A container at the construction site, which is owned by Chinese nationals, was broken into and all of its contents removed.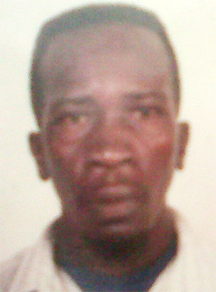 Glasgow was found after the farmer, who he would normally talk to every morning, did not see him as is normal. The farmer then went to the shed located at the side of the building where Glasgow would normally be only to find him lying in a pool of blood.
He had been employed at the construction site for nine months.
At his home yesterday, his aunt Marjorie Phoenix told this newspaper that she was on the West Bank when she received a call around 7 am from her daughter-in-law informing her that Glasgow had died.

"When I hear that I started to scream and I told my sister what happen and we immediately came over back," she said.
The woman said she then went to her nephew's work place where she saw him lying on his side on the ground with his hands tied. She also said, "We couldn't even see his face, like they tied his face… I saw a knife and a wood on a bench.''
Glasgow, who lived with his aunt, had left his home for work on Wednesday afternoon, his aunt Marjorie stated. She said she last saw her nephew alive around 3 pm on Wednesday before he left for work. Glasgow would normally work from 5 pm until 7 am.
His aunt described him as a very quiet person. Glasgow leaves to mourn his aunt, four siblings and other relatives.
The police are investigating the matter.
Around the Web