Superwoman is the most appropriate word to describe 39-year-old Vanessa Simon who has three jobs, strips and sells brooms, sells plants, helps her five sons with their homework and attends church on Saturdays.
But it is not some supernatural power that drives this Hopetown resident but simply the love of a single mother who made a promise to herself never to send her children begging and always to provide for their needs.
"The main reason I am doing all this is because of my children. People always say, 'Girl you don't tired?' but while I does feel sleepy sometimes… tired I don't feel. I don't know where the strength comes from, but I don't want to depend on somebody for anything; one thing I promise is not to send my children anywhere and beg anybody for anything. Everything they need I must provide it. I made that promise to myself – I did not tell my children that…but that is the promise I made to myself," Simon told the Sunday Stabroek recently.
This reporter caught up with the busy woman in her modest two-bedroom house on her lunch break from her sweeper/cleaner job, and between cooking a pot of rice and grating coconut she explained how she gets through any given day.
With a smile which almost never leaves her face, Vanessa said she does nothing differently from the many women around her, who work hard to help maintain their families. The difference with her – and she shares this detail without hesitatation – is that her husband disappeared almost six years ago and she has not seen him since, although she hears from him sporadically.
As she speaks she runs quickly down the stairs to speak to one of her sons who was sneaking a plant out of the yard to take to his school.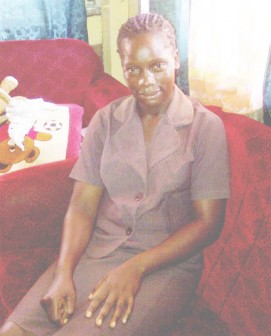 "Mommy a want to carry the plant and lend the school to decorate because ministry officials coming," he pleaded and she grudgingly allows him but warns him to return it that very afternoon.
"He is not supposed to come home for lunch but he say he come for the plant," she said while returning to the interview.
It was the same son she caught in a fruit tree on the road while riding her bicycle taking this reporter to her home. She hopped off the bicycle in seconds and snatched a dry branch charging towards the tree but she could not match the agility of her son who scampered down and ran all the way home.
"You come down too," she turned and yelled at her son's schoolmate.
"The next time you come from school and I find you down deh, you ain't guh like the reception," she warned her son as he happily left plant in hand.
Unfazed by all that Vanessa, who kept apologising profusely for the condition of her house and yard which she said she had no time to clean [this reporter saw nothing wrong with it], said it is hard to explain when her day starts since she only sleeps "for a few minutes" in her bed.
As she apologises for the condition of her yard and home this reporter had fallen madly in love with the beautiful flower plants she had on display and was envious that she found the time to take care of them.
Three jobs
She works as a security guard from 11pm to 7am and rides about four miles on a bicycle to and from her job at Fort Wellington.
"Before I go to work in the night, I prepare what they have to take to school the next day, their breakfast and their snack. And the passage for the one who have to pay to go to Mahaicony, I leave that so by the time I come in the morning they finish bathing and if any homework need to finish off we do it," she said.
But the children would have also fed the ducks, chickens and sheep that she rears.
She "straightens up" the house and the children then leave for school and she for her second job as a sweeper/cleaner at a practical school in the village.
She has to reach work for 8am and during her lunch break which commences at 11.30 she scurries home to start preparing a meal for her children so they would have "something solid to eat when they come home in the afternoon," before returning to work for 1.30pm.
In the afternoon Vanessa makes a quick stop home before heading out to start her drainage work, which she does for about two hours depending on the volume of work. She does not do this every day, because on Sundays they also work and "we would try to push the work [then] as far as possible."
After the drainage work she takes a bath and lights her lamp, and by that time the children would have completed penning the stock and would have left for lessons.
Vanessa is also part of the 'Women For Change' organisation which sells bottled agro-processed products under the brand name Hopelair, and she ensures that she helps out the thirteen other women with the grinding and bottling of the products.
By the time she has completed this, her children would have returned from lessons and she returns home and helps with homework and "focus[es] more on the hard work, especially the one who is preparing for Common Entrance."
"I help him out and then I catch a couple minute sleep, get up and straight to work."
So how does she find time to care for her plants?
"Weekends," she says but it is still not clear when, since she attends church on Saturdays and also does her drainage work on Sunday, but she later expanded on the topic.
"Or even time like now [on her lunch break] while the pot cooking I downstairs looking after the plant, or washing or looking after the fence. Because you see all the little barricading and fencing around the yard? I did them all," she boasted.
Or you could find her stripping brooms at that very hour which she sells to help supplement her income. She also sells plants during the holidays.
Vanessa's ultimate goal is make life comfortable for her children, and if it means that she has to work every minute of the day she would do so happily.
Interior
Vanessa's husband left for the interior when her youngest child was three plus, and she has not seen him since. Today the child is nine years old.
"But I had a hard time with him too while we were together because even though we were living together… I still use to have work and do my thing because he use to do labourer work, but then sometimes I find it difficult because he didn't want give you the money and if the children short of something if he don't have money I can't tell the children we don't have money, I have to provide what they need."
While she lived with her husband they lived in a very small house which could have barely held a bed, and they did not own it.
She lives on squatters' land but hopes to get a title for it soon. Today she owns her own house, "that I build on me own and I still building."
When her husband left it was with the understanding that it was for him to work for a better life for their family, but she did not hear from him until two years later when he sent someone with a piece of gold which she sold for $6,000.
Through the individual with whom he sent the gold, he told her to write a letter to him, but instead she wrote her phone number on a piece of paper and placed it in a testament and sent it to him. She heard from him a while later.
He called and gave her directions to collect $15,000 which he requested she use to buy some medication and other items. She bought these and sent them, and whatever money remained she used. She did not even count to see what remained.
He never explained his absence and she never asked.
"People always say that I should summons him, look for him or write and tell he them children need things. But I don't think I should. He knows that he has children so why I must remind him that he has children?" she asked.
Vanessa said she was just shy of her 24th birthday when she met her husband and at first it was good, but then later on she saw "ups and downs."  However, she stayed because she already had children with him.
"And so you try to make it work and then you get one child, then two and you still try to make it work, and then it is five children and is then we get married. And then within that last period things just get really worse in terms of finance; he was abusive and although I stood up to him it was overbearing," Vanessa related.
But she does not allow those days to bother her; she recalled she had reported her husband on several occasions when he was physically abusive to her, but admitted that she asked the police only to warn him "because I don't like that court thing and so on."
The last time she heard from husband was earlier this year when he sent $10,000 and requested some fish. Vanessa said whenever he sent money he would always make a request for items and she never fails to send them to him.
She does not depend on the money he would send from time to time, but said she welcomes every little that she receives. She recalled that over the last holiday she waited in vain, hoping he would have sent money to help prepare the children for the new school year.
If her husband reads this story Vanessa has this to say to him: "If you have a problem with me and you don't want anything to do with me for some reason or the other, the children are yours and some day you would need them."
Lessons for five boys
Vanessa said she pays $10,000 a month for lessons for the five boys and that she sacrifices this sum to ensure that they are meaningfully occupied when she is not around.
"And then I don't think I can teach them all, but when they have difficulty I would assist, but I does not give them the answers I explain to them and let them figure it up."
She is proud of her children's performances at school and said her second son passed to attend Mahaicony Secondary School and is doing exceptionally well. He would even assist his younger brothers with their homework.
"And my children never miss a day of school – check the register. Once there is school they are there," she said proudly.
And her children are not only involved in school but Vanessa ensures they participate in church activities attending the Pathfinder Club, which is the youth group of the Seventh Day Adventists.
"They attend the club on Saturdays and Sundays and the two big ones are also in the youth group in Hopetown."
Her only grouse is the fact that she has no electricity, pointing out that it is very difficult for the children studying with a lamp. She hopes that their land will soon be regularized and they can start receiving electricity.
And apart from everything else, Vanessa is also taking Home Economic Classes at the practical school where she works, and the coconut she was grating during the interview was for a practical she had that very afternoon. At the end of the programme, funded by the Ministry of Human Services and Social Security, that also involves her taking Maths and English classes, she would receive a certificate. She hopes that she might be able to find a better paying job with that new qualification.
She explains that she does not earn large sums from her jobs, but she has learned to budget and  ensures that all her bills are paid and rations are in the house. If she falls short the money she makes from her brooms helps.
Child abuse
Finding another husband is not an idea Vanessa is willing to entertain at the moment.
"When you read the papers and look at the news, you see so much child abuse. I was abused as a child and I don't want that to happen to my children," Vanessa declared.
She said she also has relatives who are in abusive relationships and she is afraid to start a relationship with another man.
She does not rule out having another partner, but that person would have to be a Christian.
"And I would have to investigate that person for a while; I have to see their whereabouts, do a background check and everything."
She said she does not know how her children would react, so she has to be careful before making that decision.
"I don't want anybody to ill treat them; you rebuke them but you rebuke them in love."
Her sons are between the ages of 9 and 13, and their names are Hurson, Neil, Nicholas, Nilon and Nigel, and for Vanessa, once they grow up to be productive citizens her years of hard work would have paid off and she would be one of the happiest women around.