The 19-year-old man held after the murder of two Corentyne broom vendors sometime on Saturday at the Adventure backdam had been suspected by the older woman of robbing her of her broom proceeds.
The two women, Florry Papiah, 33, and Jennifer Pooran, 19, and the prime suspect, Deodat Persaud, 21 of Miss Phoebe, Port Mourant left home around 7:30 am on Saturday to "cut broom" in the backdam. They were expected back around 2 pm.
Persaud would normally sell the broom for the women but recently Papiah noticed that her money was short. It is not clear whether she had confronted him about it.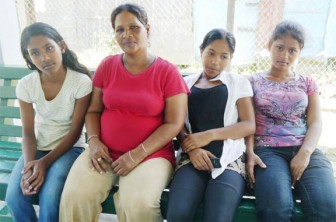 Reports are that they would go to private coconut estates in the area to cut branches and make brooms. They would supply the brooms to a few business places on the Corentyne at a cost of $400 each and would "buss up the money."
Relatives said that from all appearances, the murders did not take place together because their bodies were found a good distance away from each other under. They were covered with branches.
Pooran's neck bore a long slash while Papiah's mouth was "slit open"
and there was a gaping slash across her breast and right arm.
Papiah's sister, Joan who was supposed to accompany the trio to the backdam, told Stabroek News that Persaud apparently took Pooran out of sight of Papiah to cut branches for her and after that he allegedly carried out the attack.
She said it seems as though Papiah tried to "put up a fight" when he reportedly went to attack her because of the way she was chopped and because her brooms were scattered all over.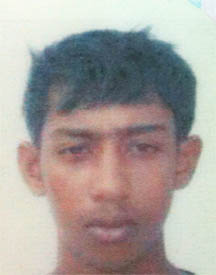 Shivanie, 15, the elder of Papiah's two daughters, told Stabroek News that on Friday evening her mother told her that Persaud was "not giving her the full amount of money for the brooms. I don't know if he heard when she was telling me or what…"
For that reason, she said when the man returned home on Saturday around 11 am without the women and told her they had gone to sell the brooms she believed him.
He also lied to her later when she questioned him via telephone [after he was taken to the hospital] about "what part in the backdam dem went and he said the last part. But they were actually found midway."
She said too that he left in a white vest, black pants and a pair of black slippers but he came back wearing the pants alone. Shivanie said she was listening to music on his [Deodat's] phone and he took it before leaving on a bicycle to go "up the road and come back."
He returned about 20 minutes later, "throw down the bicycle and started to vomit green." Then he run upstairs and Shivanie followed.
Persaud then went to lie on the bed and when questioned, he told the girl that he had ingested poison. He was rushed to the Port Mourant Hospital and immediately transferred to the New Amsterdam Hospital where he was admitted under guard.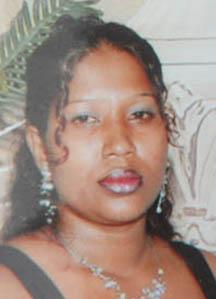 Meantime, Joan who was supposed to accompany the trio to the backdam, suspected that "something was not adding up and I want know why he drink the poison."
She had taken clothing for him at the hospital and while taking them out she questioned him and he related a tale that "10 men put gun to them head [he and the women]" and forced him to drink the poison and took the women away.
Not believing his story, she said she "put the clothes back in the bag and went to the police station." The police accompanied relatives to the backdam to search but there was no sign of the women. The bodies were found the following morning.
Meantime, Joan said she received a call from another sister that the search team "find dem and me feel happy but then she tell me that dey find them dead. The phone drop out me hand and me start to scream."
She said she keeps thanking God that her daughter, Sabrina discouraged her from "going in the bush because it dangerous" and that she was spared the attack.
She recalled that her 20-year-old son and Persaud "used to go in the backdam to cut broom and dey used to come out and say that some men on horses would run them out of their farms."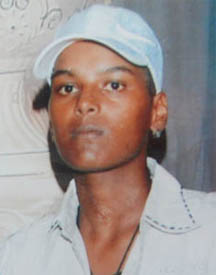 At one time her son came home covered with mud up to his neck. She then told him "boy, go and get yourself a job." It was for that reason that Sabrina, who said she "got a vision that something would happen, stopped her from going.
She insisted that her mother call Papiah and tell her she could not make it. The woman refused because she wanted to "get money to buy a school boots fuh meh son."
Sabrina eventually sent a text message to her aunt that her mother could not make it. When Papiah called to inquire she said she was "having second thoughts. I thank God and my daughter that I am still alive today," Joan declared.