-after West Dem Hospital maternal death
While an autopsy today will determine the cause of death of Tushana Cameron, who died after delivering at the West Demerara Regional Hospital (WDRH) on Wednesday, her parents said they will be meeting the Chief Medical Officer Shamdeo Persaud to discuss assistance for her funeral and her newborn baby girl.
"We visited the hospital today to meet with the matron and were told to return tomorrow at 8am to meet with the C.M.O. We need answers and we also want to know who will help us since we are a poor family to take care of this baby and bury the girl," Shellon Cameron, the young woman's mother, told Stabroek News.
Officials at the hospital yesterday referred this newspaper to the Ministry of Health for comment, saying they were not in a position to speak on the case. However, efforts to contact both the CMO and Minister of Health Dr. Bheri Ramsaran proved futile. Persaud's secretary said he would be away from his office until next Monday and should be contacted by email. There was no response to the mail that was dispatched up to press time. Dr. Ramsaran, meanwhile, was out of office and calls to his mobile number went consistently unanswered.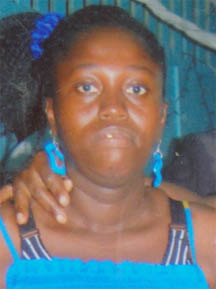 Tushana Cameron, 21, of Lot 111 Bagotville, West Bank Demerara died after doctors decided to induce labour although it had been recommended that she undergo a caesarean-section. It was reported that she bled to death.
Her mother had explained that she was taken to the hospital on Tuesday night, after experiencing labour pains. The medical staff on duty was told that she received ante natal care at the La Grange Heath Centre and was a diabetic. Nurses at the La Grange clinic had advised that her baby would have been too large for vaginal delivery and had recommended a caesarean-section.
However, on Wednesday morning doctors decided against it, saying that she was capable of a normal vaginal delivery and labour was induced. Sometime after 7am, the child was born. However, almost three hours later Shellon Cameron was called to rush to the hospital to sign a consent form giving permission to have her daughter's uterus removed as her placenta was "stuck in her." The woman died soon after.
To compound the family's ordeal was the "run around and drama" to collect the newborn. The child, who the family has since named Kiana Toussaint, could not be handed over to family members until permission was granted by the Ministry of Human Services. However, when that process was completed, her father and grandmother were told that the baby girl could not be discharged since she had fallen ill.
"Is one go around come around they get we on. Yesterday (Wednesday) they said she will be discharged this morning (yesterday). I went and she was okay but they said we have to go ministry to get the okay to take her away. We went but when the father turn up at the hospital, they said the baby sick bad and can't go home till next week," the maternal grandmother of the newborn said.
"Now they saying the baby get jaundice, she losing weight rapid, she get infection in her eye, this happen, that happen and she can't go home till must be next week… why are they changing stories? She was good to go home yesterday but today she suddenly get a million things? What is going on? We need answers," the woman added.
Efforts to have the child transferred to the Georgetown Public Hospital (GPH) were futile but the grandmother said she would persist as she had no confidence in the WDRH. "The paediatrician said it was not wise to move her but we want to because if her mother went there and die suddenly are we to believe they will take good care of a child who is sick now?" an aunt of the girl said.
Prior to Cameron's death, there were nine maternal deaths and 41 stillbirths for the year. Persaud had told this newspaper during an interview earlier this year that the  findings on some of the maternal deaths have indicated that there was laxity on the part of doctors as patients were not managed according to protocol.
The Health Ministry was criticised in 2010 when there were 25 maternal deaths. This prompted the government and ministry to implement measures as a means of bringing the numbers down. In 2011 it decreased as 14 maternal deaths were reported. The relatively high incidence of the maternity-related deaths over the past three years has raised concerns about that quality of health care in the various institutions the women came into contact with.
Around the Web