Minister of Home Affairs Clement Rohee this morning denied that he was in any way responsible for the death of the three Lindeners on July 18th and charged that there is a campaign of "vilification" against him that is politically motivated.
"The word vilification comes from the word villain, I have been made out to be the villain by linking me directly to the shooting of the three Lindeners," Rohee said when he was asked what he meant by vilification.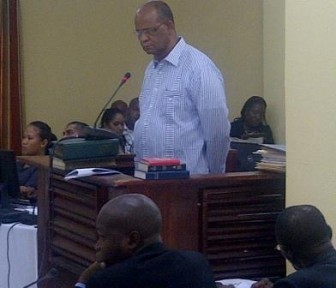 Rohee, taking the witness stand at the Commission of Inquiry (COI) being held in the Law Library to examine the events of July 18, said that a series of occurrences led up to the shooting.
Being led by the COI's counsel Ganesh Hira, who asked the minister to respond to accusations being circulated in the media and in the public domain that he was responsible for the deaths of the three Lindeners and injury to others, Rohee said the accusation is "wrongly placed."
"The current campaign of vilification that has subsequently ensued finds its genesis to that accusation by persons in this room and outside…" Rohee said.
The minister arrived before his estimated 10am scheduled time to take the witness box and had to be escorted back outside since a police officer was testifying at the time.
Dressed in a blue and a white stripe shirt, Rohee moved to the box with all eyes on him.
And as Rohee took to the stand several persons linked to the government, including parliamentarian Manzoor Nadir, picked up placards outside of the courthouse and protested against the minister being called to testify. The protestors, most of who were at the inquiry before the minister started testifying, said it was APNU and the AFC who should be made to explain their role in the July 18th killings.
Rohee said he met with Police Commissioner Leroy Brumell on the evening before the protest in his ministry's boardroom. During that meeting the commissioner told him that he was sending half a unit of the TSU and he advised him that he was relying on him to ensure peace and order is maintained while the unit was there. He spoke to Brumell again at around 9 pm on the night of the shooting and he told him that persons were shot and he wanted information but Brumell had no information.
He said he was being constantly contacted by his Cabinet colleagues, President Donald Ramotar and Prime Minister Sam Hinds. He kept calling Brumell and was not getting through and he contacted Senior Superintendent Clifton Hickens as he "wanted to know what was going on the ground at Linden."
In the audience are the Ministers of Foreign Affairs, Public Service and Health, Carolyn Rodrigues-Birkett, Dr Jennifer Westford and Dr Bheri Ramsaran. respectively. Ministers of Agriculture, Water and Housing  Robert Persaud and Irfaan Ali were also present along with other goverment operatives.
Unlike other days the library was packed to capacity.   (Oluatoyin Alleyne)
Around the Web