In the first charges stemming from last month's unrest in Agricola, two men were yesterday accused of property damage amounting to millions.
Dwayne Gibson, 29, of Lot 133 Nelson Street, Mocha, East Bank Demerara and Nigel Garraway, 29, of lot 33 La Parfaite Harmonie, West Bank Demerara were charged separately before Magistrate Sueanna Lovell at the Georgetown Magistrates' Court.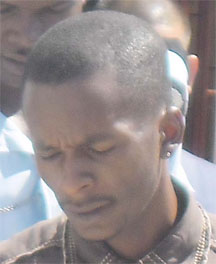 Gibson, a technician, was charged with unlawfully and maliciously damaging a Ford motor van, valued at $2.7 million and tyres valued at $2.3 million on October 11, in Agricola. He pleaded not guilty.
Garraway, a University of Guyana (UG) student reading for a degree in International Relations, was charged with unlawfully and maliciously damaging tyres, valued $2.3 million and like Gibson he denied the charge.
Both the van and the tyres were the property of Ray 'Tony' Rutherford.
Attorney Joseph Harmon, who represented both men, told the court that they were innocent.
Harmon stated that Garraway was in his vehicle on the East Bank road, travelling towards the University of Guyana to sit an examination when he was stopped by a crowd at the head of the Agricola junction and was asked by police officers to step out of his car.
He said he was subsequently arrested.
Gibson, the lawyer stated, was on duty with a contractor in the area when he heard about the protest on the main road. He added that while looking at the protest, Gibson was apprehended by officers and charged with property damage.
Neither of the men, Harmon said, was identified in a line-up by witnesses who recounted what transpired on the date in question. He claimed that police told him that they had surveillance footage showing his clients committing acts.
He also said that it was a shame that Rutherford was not at the court hearing to give his side of the story.
Prosecutor Alexis David-Hosanna said they received information that there are surveillance tapes of the unrest but they have not viewed them as yet.
She also said Rutherford was not aware of the court hearing, which explained his absence.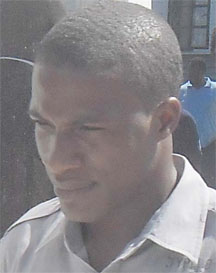 Harmon asked the court for reasonable bail, explaining that both men were released on $50,000 station bail prior to their court appearance and they did not pose a flight risk.
The prosecution had no objections to bail but asked that it be set at a substantial amount due to the seriousness of the offence committed by the accused.
For Gibson, bail was set in the sum of $150,000 each for both charges and for Garraway bail was set at $75,000. The cases are to be called for reports and fixtures on November 21 at Court Five.
Around the Web