–in grisly Bonasika Creek attack
A man was killed and his girlfriend seriously injured after they were savagely attacked by her cutlass-wielding ex-lover, who severed both of their left hands on Thursday afternoon at Bonasika Creek, Essequibo.
Dead is Richard (only name given), 22, said to be a seaman of Mahaicony, East Coast Demerara. His girlfriend, Joy Mayers, 27, who had her left hand severed in the attack, is now a patient in the Female Surgical Unit of the Georgetown Public Hospital, where she was transferred from the Leonora Cottage Hospital after the attack.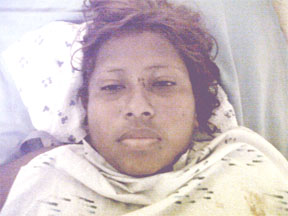 Their attacker, Dharmendra Persaud, with whom Mayers had shared a 14-year abusive relationship and four children, escaped after the attack.
From her hospital bed, Mayers told Stabroek News that Persaud had threatened to kill her after she ended the relationship last month and reports were made to the police regarding the abuse and threats.
She also stated that her aunt informed her that Persaud took a bottle of poison and went into the bushes after he carried out the attacked them. There was no indication up to press time whether he had been found.
According to Mayers, Persaud travelled to Bonasika by a paddle boat from Bartica after he was told by his friends that she and her boyfriend were in the house.
The grisly attack occurred on Thursday afternoon around 5:30pm, when the couple was sitting at the home of Mayers' father.
Persaud, according to police, entered the house armed with a cutlass and attacked Mayers, severing her left wrist, and inflicted several wounds about her body. He then chopped Richard to his head and also severed his left wrist and escaped.
Richard was pronounced dead on arrival at the Leonora Hospital, the police added.
Mayers recounted to Stabroek News that around 5.30 pm, she, her boyfriend and her three-year-old daughter were sitting in the house when Persaud entered from the back door with a cutlass in his hands.
She said that he did not say anything to them as he chopped them. Mayers said he chopped her first and then turned his attention to her boyfriend and "me pick up me daughter afta me hand get chop out and run outside to me neighba house." The child was not physically harmed during the attack.
Mayers ran, leaving Richard in the house and she did not know what transpired, but when she returned to the house after her attacker had left, she saw that Richard was not moving. Her neighbours then rushed her to the Bonasika Creek Health Centre for medical treatment.
Mayers said she ended the relationship with Persaud, who is the father of her children, in October and moved in with her father.
She added that she had left the children with Persaud but went back and collected them, since he would normally beat them. She and the children then went to a relative's home in Mahaicony to spend some time and while there she met Richard. A relationship was quickly established and the couple moved to Bonasika Creek on Monday to live in her father's house.
Mayers said she had not told Richard about Persaud.
She was brought out of the Bonasika Creek community alone, while her other family members are still there.
Around the Web