A three-year-old boy is overheard speaking gibberish as he happily skips up the stairs of the Georgetown Public Hospital (GPH) in the company of his mother, who has a baby in her arms.
His mother did not appear to be bothered by the fact that her son was not making any sense with his speech but Head of the Audiology Department Dr Ruth Quaicoe, a Consultant Audiological physician, was immediately concerned as she passed the woman and her child.
So concerned was she that she immediately put down her bag and sought the mother out and asked about the child's speech and hearing; she was told: "Nah man, he don't hear too well but he hearing don't worry with he." When she found out the child was three years old the doctor told the mother that the boy had a problem and she needed to have his hearing tested, or in another three years he may not be able to say anything.
Two hours later the mother visited the department and after the test was done it was discovered that "he really was not hearing anything." She said the child could not hear anything that made sense to him, and as result he spoke gibberish when at his age he should have been speaking and asking many questions. "But all he was doing was making noise that nobody can understand," the doctor said.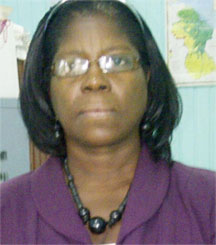 The child was given a hearing aid and the mother was advised that when he was older and ready for school he would have to attend a special needs school. Because of his profound hearing loss he will have to wear the hearing aid for the rest of his life, but the doctor said he would develop with speech and talking therapy, and his mother would also undergo some training.
Dr Quaicoe gave that example to demonstrate how parents take their children's speech and hearing for granted, something, she said, which is a very serious problem in today's society.
She strongly advises that parents who have children between the ages of zero and five visit the department and have their ears tested, which is a very quick procedure with no waiting line. Tests for adults and older children require appointments because these take longer, but in the case of very young children the test is quickly done and once a problem is detected remedial treatment would start immediately. In the course of a week the department sees about 10 to 15 very young children.
The audiology specialist said that in many cases parents only realise that the child has a problem when they enter primary school, which in many cases is very late. She said also that parents who have had relatives in their family who had hearing problems should always be concerned about the hearing of their children.
She said if the child does not develop speech by age five it was very difficult for them to do so, and unfortunately a lot of mothers dismissed their children's garbled speech with the explanation, "Our family talk late, don't worry he will grow up just now."
"You do everything at a certain time; the speech and language you develop from zero to about five to eight years, after that if you never had a hearing aid and you never came for any intervention that child would not develop any speech no matter what is done,"  Dr Quaicoe said gravely.
Many of the parents also don't know that there is help available at the GPH, where they can access free hearing aids compliments of the Ministry of Human Services if they are unable to afford to purchase one for their children.
The doctor said there are also some parents who prefer to take their children abroad for treatment, but she warns that if this is not done in the early stages then not much could be done to help. Some also visit neighbouring countries for a cochlear implant for their child. This is a small, complex electronic device, but she pointed out that if the child is seven years old and they have the implant they would have to start their speech at the level of a one-year-old.  She said there is also a special computer system that assists in the development of speech but persons need to be trained to operate the machine for at least 18 months.
Owing to the fact that there is no institution which facilitates such training in Guyana she would not advise parents to take this route unless they can remain in the country where the surgery was done for at least two years. She mentioned one child who had the implant and whose parents paid for the specialist to come to Guyana every six months.
"What we are seeing now is a lot of the children with autism… the reason for many of the children's hearing loss has to do with some mental retardation which might have been caused during pregnancy or at birth… We are hoping that more parents can come in and have their children's hearing tested," Dr Quaicoe said.
According to the doctor some mothers still need to be educated about the dos and don'ts of pregnancy, which includes joining the clinic and not drinking alcohol or smoking.
In addition, many need to understand that every pregnancy is different.  Dr Quaicoe said it is also not advisable to have home delivery because if there is a loss of oxygen to the child during the delivery then he or she could end up being deaf.
She said because of the trivial manner in which parents treat this issue the department has embarked on massive sensitization drives with the aim of educating them, since many of them live in denial. Persons from the department also visit clinics and speak to pregnant women emphasizing the importance of taking their children for hearing tests.
Asked whether she has seen children who may be affected by the noisy atmosphere of the city and its environs, Dr Quaicoe responded in the negative, pointing out that the noise has to be around for a prolonged period to affect one's hearing.
Adults are the ones who have had their hearing affected by noise, especially those who work in industrial environments where machines are running all the time.
"We get quite a lot of those persons but you see that person we can help, because they have already developed speech; we give them a hearing aid and they can continue to live with their hearing. But for the kids it is different as they would have never developed speech, so we need to put on a hearing aid and give them speech therapy and ensure they have follow-up classes," she said.
Prior to 1998 audiology services were not really offered in Guyana and you had to go abroad to get your hearing aid, but today persons are tested and fitted with hearing aids in Guyana and Dr Quaicoe said while the aid is indeed expensive, the cheapest being $56,000, families are assisted by the Ministry of Human Services & Social Security to purchase one if they are unable to do so.
She said it is still unfortunate that some parents do not allow their children to use the hearing aid even when these are given to them, as they are ashamed to admit publicly that the child has a hearing problem.
At present, the department conducts an 18-month training programme for persons with CXC subjects, which must include a science subject as well as Mathematics and English, during which they are involved in practicals and theory classes. After 18 months a final examination is written and once the person is successful they then become qualified and would be returned to their regions to conduct clinics. It is hoped that eventually persons would not have to travel to Georgetown to access the service. The first group was trained in 2001 and those trainees began work at the GPH.
Around the Web