When security guard Philomena Pilgrim went to work last week, the idea that she would have no home to return to was far beyond her imagination.
However, just a week before Christmas, Pilgrim's son allegedly decided to torch their two-storey home at Samaroo Dam, Pouderoyen, West Bank Demerara, after an argument.
On her way to work, Pilgrim had received a phone call which she said has changed her life and severed her relationship with her youngest son. She was told by a neighbour that her son had just burnt her house to rubble. She quickly rushed back to her home in Pouderoyen, West Bank Demerara.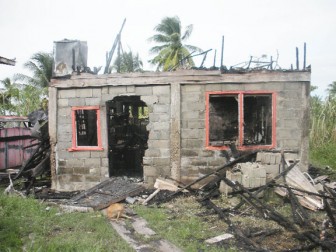 The sight that greeted her that morning left her staggering and she sat on the trunk of a tree for hours watching the remains of all that she had worked for vanish in the blaze. All her hopes and good thoughts about Christmas went up in flames the day of fire, Pilgrim told Stabroek News. She said that the season was a dour one for her because she lost everything from her clothes to the sheets on her bed.
She said that she was still trying to grasp the reality of her loss, especially since it was around Christmas. But she added that the pain and shock was nothing compared to the hurt that she felt knowing that her son had allegedly taken a match and lit their home afire.
"I don't want to see him," she said, adding that he had sent a message for her. She was told by a friend that he cut up his clothes and vowed that if she ever rebuilds the house he would burn it down again.
Pilgrim said that she didn't have Christmas this year but was expecting a brighter new year. When Stabroek News contacted her she said that she had just finished clearing out the rubble and was ready to build and start anew. Neighbours and people in the village have all pitched in to lend a helping hand; some gave money; some gave time and sweat; whilst others comforted. She also said that the local church she attended donated money to purchase blocks for the rebuilding. She said that the church supported her with not only money but that the members had quickly gathered and donated clothes and household utensils.
On the day of the fire, a good friend quickly rushed to Pilgrim's aid and offered her a place to sleep. Her stay was extended after her friend told her that she could stay until her house was rebuilt. The friend was also assisting in the fundraising for the rebuilding of her home.
The blaze happened around 7:30 am last Tuesday, when Pilgrim and her grandchildren had left the home. Neighbours had seen the woman's son purchasing a box of matches at a shop in the area before the fire had started.
Pilgrim's son, Rockwell, 29, appeared in the Vreed-en-Hoop Magistrate's Court last week, charged with arson and unlawful assault. It was reported that when police tried to detain him after he allegedly lit the house afire, he attacked the police with a knife and tried to escape.