HAVANA (Reuters) – Cuban Economy Minister Adel Yzquierdo Rodriguez has been named a vice president on the Council of Ministers, the government said yesterday, as he continued a rapid ascent up the political ladder.
He has been economy minister less than a year and was put on the powerful Political Bureau of the ruling Commu-nist Party in April.
In an official note, the government said Yzquierdo became the eighth vice president on the Council of Ministers at the recommendation of President Raul Castro and was approved by the Council of State. He will continue as economy minister, it said.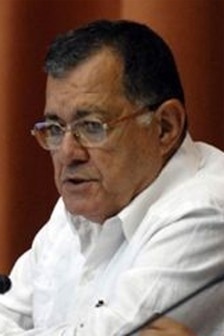 Castro is the president of both the Council of State and the Council of Ministers, which effectively functions as his cabinet.
Yzquierdo, 66, was in the military and trained as a mechanical engineer in the Soviet Union.
He ran several military businesses while Castro served as defense minister for 49 years before succeeding his elder brother, Fidel Castro, as president four years ago. Yzquierdo also was head of planning and economy for the armed forces.
In all his activities, he "had obtained satisfactory results," according to a brief biography on the Communist Party's website.
In Yzquierdo, Castro has someone who is younger than the top men around him and helped implement in the military the kinds of economic reforms Castro is now putting into place nationally.
Castro has said the Communist Party must find younger people to take over when the current generation of leaders is gone, but there have been no obvious candidates to succeed them.
Castro is 80, while his top two vice presidents are 81 and 79.
Castro has a history of promoting past colleagues in the military to help him push economic reforms through a sometimes recalcitrant  bureaucracy and to aid him in fighting government corruption.
Around the Web