CARACAS (Reuters) – Venezuela's President Hugo Chavez will undergo another operation in the coming days after doctors in Cuba found a lesion in his pelvis where surgeons removed a large cancerous tumour last year, he said yesterday.
The 57-year-old socialist leader confirmed he travelled to Havana for the tests on Saturday. Rumours of the unannounced trip had prompted a flood of speculation among the opposition and supporters alike that he was at death's door.
Chavez's health is the wildcard ahead of an Oct 7 presidential election, when he will seek a new six-year term. He has never given many details about his condition so the news he needs more surgery was bound to feed doubts about his recovery.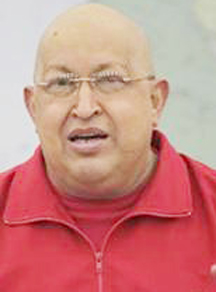 "There is no metastasis, just this small lesion in the same place where they removed the tumour," the president said during a televised tour of a factory in his home state of Barinas.
"Because of the growing rumours, I'm obliged to give this information now … it's a small lesion, about 2 cm across, very clearly visible. This will need to be taken out, it needs more surgery, supposedly less complicated than before."
He said the next operation would take place in the coming days, but that it had not yet been decided where.
"No one should be alarmed … I'm in good physical condition to face this new battle," he said. "It has to be verified whether there is any link with the tumour that was there before."
In a phone call to state TV later, the president added: "No one can say if it (the lesion) is malignant, but there is a high probability because it is in the same place."
He had insisted he was completely recovered, although medical experts had said it was too soon to make such a call.
Donning a bright red hard hat to stroll around the proposed site of the giant Veneminsk factory, the president joked with workers and looked to be in reasonable health.
A US cancer doctor told Reuters that with such little detail it was impossible to know his real condition, but that the latest turn of events did not look good.
"They have always played their cards close to their chest, so you never really know," said the doctor, who has followed the case from afar but asked not to be named.
"But a two centimetre lesion in the same space where he had cancer before means there is a high probability of malignancy. This is serious, very significant."
Venezuela's information minister had earlier denounced a report that Chavez had been rushed back to Havana for emergency treatment as part of a "dirty war by scum," launched by the opposition ahead of the election.
A prominent opposition-leaning Venezuelan journalist, Nelson Bocaranda, wrote on Monday that Chavez, who had two operations in Havana last June, had returned unexpectedly to Cuba over the weekend and that some of his relatives had flown there too.
Chavez allies were scathing about Bocaranda after the president appeared on television. Deputy Foreign Minister Temir Porras joked on Twitter: "They'll have to take me for an emergency operation in Cuba. I'm dying of laughter!"
Local political analyst Luis Vicente Leon said any new "sympathy" bounce in support linked to the president's illness would be lower and short-lasting the second time round.
"Clearly the tensions within Chavismo will grow because of the uncertainty generated by this announcement," he said.
The public's reactions to Chavez's news were mixed.
"Maybe it's time for a change in the country. Everything points to that," said Elizabeth Gonzalez, a 42-year-old housewife in Caracas. Car park attendant William Perez said the president had looked alright, if a bit swollen-faced.
"He didn't appear bad or tired. He's a fighter, and like his motto he'll live and he'll conquer!" he said.
Barclays Capital noted that polls show more than three-quarters of Venezuelans believed Chavez had fully recovered.
"However, if that perception changes it could significantly affect Chavez's re-election chances, not only physically limiting his ability to campaign but also creating doubts about the viability of a new term in office," it said.
The opposition is newly united behind one candidate – youthful state governor Henrique Capriles – and see the vote as their best chance to end Chavez's 13 years in power.
Recent opinion polls have given Chavez an edge over Capriles, thanks partly to a huge program of new state spending on social projects. But about a third of Venezue-lans remain undecided, and competition for their votes will be intense.
One medical source close to the team treating Chavez in Venezuela said he had been suffering a tumor lysis, or cell breakdown, which carried symptoms including a high fever.
Before Chavez's reappearance yesterday, Venezuelan analyst Diego Moya-Ocampos had suggested his absence could well be a strategy by Chavez's campaign team to put the focus back on him and not Capriles, who since winning the opposition primary had been at the centre of media and political attention.
He said the fact that the latest rumours had spread so fast just underlined the anxiety among loyalists each time Chavez vanished from view for more than a couple of days.
Chavez apologised to his supporters yesterday, saying he knew the speculation about his health was upsetting for them.
"Always these rumours … There are people who want me dead, who hate me so much," he said. "I am very sorry, because I know that while some people are happy, the majority are suffering."
Around the Web