(Trinidad Express) The Police Service Commission (PSC) on Friday gave Police Commissioner Dwayne Gibbs a damning report.
PSC chairman Dr Ramesh Deosaran told the Joint Select Committee (JSC) meeting of Parliament, at Tower D of the Waterfront Centre in Port of Spain, that Gibbs's leadership skills had been found to be "terribly lacking"; that he was "disrespectful" in terms of his responses to the "legitimate enquiries" of the commission; that his level of enthusiasm was "far from satisfactory"; that he was relying on public relations and paid advertisement rather than substantive results; and that he was warned in a meeting two weeks ago that he was "close to the brink".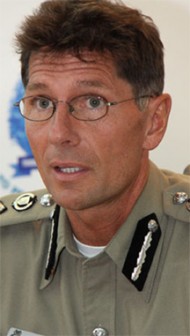 The PSC members and other staff appeared before the committee, the body appointed to enquire into their operations.
The members of the JSC are Independent Senators Subhas Ramkhelawan (chairman) and Elton Prescott, SC; National Security Minister Brig John Sandy, Government Senators Devant Maharaj, David Abdulah; Opposition Senator Shamfa Cudjoe; and MPs Vernella Alleyne-Toppin, Prakash Ramadhar, Chandresh Sharma, Rodger Samuel, Joanne Thomas and Marlene McDonald (who was absent).
Deosaran's statements caused Prescott to note that the language being used suggested that Gibbs was "sailing perilously close to being in breach of his contract of employment… And if we were on a one-on-one basis, I would have asked, 'Why haven't you fired him yet?'"
Sharma was more blunt, saying: "From your submission, you are close to arriving at something and you are delaying it… which seems to suggest that you want to go there but you 'fraid to go."
Deosaran replied: "At our last meeting with Mr Gibbs and Mr (Deputy Commissioner Jack) Ewatksi, the commission forcefully indicated that he was close to the brink. But in an exercise like ours, we prefer to err on the side of caution… to construct an appraisal and the accompanying decision that can stand higher scrutiny, especially in a matter of judicial review.
"We told him one week ago about certain conditionalities he had to satisfy, otherwise our decision (on his performance) would be of a different nature. We wanted to bring him up-to-date about our concerns and the possibility of what kind of action we would take, so he cannot say he wasn't properly warned or advised."
He said Gibbs's responses to enquiries on the status of investigations on critical matters of public interest (such as the investigations into Calder Hart) have been "unsatisfactory, dilatory and obscure… And rather than him answering, he kept asking what we want that (information) for".
He added: "And we found that disrespectful and that tendency seems to be growing on the part of the Commissioner… That tendency of disrespect seems to be increasing and we as a commission would have to tame that direction in the near future."
Deosaran said he had asked the commission secretary Ann Marie Andrews and member Jacqueline Cheesman at the last meeting to compile a list on the status and quality of responses of the Commissioner to the legitimate enquiries made of him by the commission, adding that "as of now, the situation is far from satisfactory and growingly so".
Sandy asked whether any attention was paid to leadership skills or abilities in the appraisal. Deosaran replied that the information the commission got in terms of policy execution, which is an indication of leadership which came from the Ministry of National Security signed by the Permanent Secretary, was that Gibbs was satisfactory.
"You might recall that I sent back that report because I found it not all grounded… I don't want to create unease but I thought I had to mention the report from your Ministry, which I thought didn't help us much.
"So we went further and did our own enquiries through interviews and through a scientifically designed survey of how his men felt about him because a manifestation of his leadership would be within the proper judgment of the men and women he leads, and we found by that measure he is terribly lacking. And that is coming up under the current appraisal which we are undertaking," Deosaran said.
PSC deputy chairman Addison Khan said the term "passing grade" was a phrase used by the press.
Cheesman said the commission's assessment of the Commissioner was fair, "which is just on the benchmark". The rating scale goes as follows: poor, unsatisfactory, fair, satisfactory, good, very good and excellent. Ewatski also received a fair grade, while Deputy Commissioner Stephen Williams's performance was rated as satisfactory.
Ramadhar said the most outstanding example of law enforcement failure was the arrest of people during the State of Emergency under a law which was not yet in existence, and asked whether steps have been taken to deal with that "stunning failure".
Deosaran said arresting people without evidence and legal basis was a very serious issue. He promised instructions would be given once again that the issue should receive higher priority.
Cheesman said the State of Emergency was only there for two weeks of the appraisal period and therefore did not factor in the appraisal report. The appraisal report of Gibbs's first year covered up to September 2011.
Abdulah asked about Gibbs's enthusiasm, and Deosaran said he did not want to give an answer on that forum because of the public consequences.
He said results of the scientific survey (which incorporated the issue of enthusiasm and other aspects of performance) and public opinion survey showed that the level of satisfaction, including enthusiasm and passion for the job, was "far from satisfactory".
Referring to the issues of the light aircraft and the acquisition of new uniforms, three committee members—Maharaj, Cudjoe, Ramkhelawan—said they could not understand why financial management was not assessed.
Khan said commission members received a report about the light sport aircraft from Gibbs, were not satisfied with it, nor with Gibbs's explanations, and were asking for more information.
He added that the commission also observed in the public domain, the issue of the award of contracts for uniforms, "so we are asking him for information on that" and "we intend to act expeditiously on these matters".
Cheesman said the performance tool for the first year appraisal rated four areas as follows: law enforcement—40 per cent; public trust and confidence—25 per cent; human management—20 per cent; strategic management—15 per cent.
She said the investigations with respect to the uniforms and aircraft are still ongoing. She said Gibbs was not measured on his management of the budget in his first appraisal. However, in the next cycle appraisal, which would be next four months, the commission would be more robust, she added.
Around the Web