CARACAS, (Reuters) – An ebullient-sounding Hugo Chavez said yesterday he was eating, walking at dawn and recovering fast from an operation on a suspected recurrence of cancer for the Venezuelan president.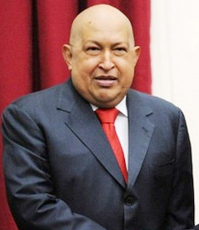 "I'm very happy, I'm fine, my recovery is accelerating," Chavez said in a phone call to Venezuelan state TV from Havana where surgeons removed a possibly malignant lesion from his pelvis four days ago.
The upbeat tone from the 57-year-old socialist leader contrasted with rumors, mainly in opposition-leaning media, that his condition may be much worse than has been admitted.
He had two operations to remove a large tumor last year.
"I was up early, walking like an old soldier at 6 in the morning," Chavez added in the ten-minute call, giving details of a diet that included pumpkin soup and yoghurt.
Venezuelans will recall, however, that Chavez repeatedly pronounced himself completely cured at the end of last year, and that his ministers have at various points put out misleading information, including statements denying his latest setback.
Should Chavez's condition be more serious, that would have huge implications for South America's top oil exporter given that he is seeking re-election in October and has said he would like to rule for another decade or two.
The stakes are high, also, for the region.
Cuba, Nicaragua and other leftist governments in the Caribbean and Central America depend on cheap oil supplies and other largesse from the Chavez government.
"THOUSANDS OF ORDERS"
Science and Technology Minister Jorge Arreaza said Chavez met several of his Cabinet members on Wednesday in Havana to discuss the progress of government welfare plans.
Vice President Elias Jaua said the president had phoned him overnight and was back to his energetic self.
"He gave me like 300,000 instructions, asked me to send him things to sign. The president is clearly exercising his mandate, governing and taking decisions for the people," he said.
With the results of tests due in the coming days on tissue extracted during the operation, some pro-opposition journalists inside and outside Venezuela have been citing medical sources to say Chavez's cancer may have metastasized, or spread.
The government has pilloried them as right-wing destabilizers, but details on Chavez's condition are scant.
Having thrived on an image of strength and energy during his 13 years in power, Chavez suffered a blow last year when doctors discovered a baseball-sized cancerous tumor in his pelvis.
There has been no word on when Chavez will return home, prompting opposition calls for a replacement to be named.
"We're in the battle here and sooner rather than later I will be physically with you. Onward to victory always! We will live and we will conquer!" he said, adding his own catch-phrase to that of Latin American revolutionary hero Ernesto "Che" Guevara.
ELECTION BATTLE
Former Cuban President Fidel Castro has long been Chavez's personal and political mentor, and the Venezuelan leader prefers to go to Havana because there is less chance of media leaks.
Chavez's rival for Venezuela's Oct. 7 election is Henrique Capriles, a 39-year-old state governor who hopes to woo former Chavez voters with a promise of a Brazilian-style "modern left" government. He has repeatedly wished Chavez a speedy recovery "so he can see the changes coming to Venezuela."
Polls show Venezuelans evenly split between Chavez and the opposition, though they also indicate that the president's emotional connection with the poor and heavy spending on welfare projects make him a clear favorite at the ballot box.
Chavez's anxious supporters have been holding vigils for him across Venezuela, and his friends around Latin America have also been sending their best wishes.
"Let's give a round of applause to our comrade Chavez," Bolivia's leftist President Evo Morales said at the inauguration of a stadium in the Amazon built with Venezuelan aid.
Around the Web