CARACAS, (Reuters) – President Hugo Chavez said he will need radiation treatment for cancer in the run-up to Venezuela's October presidential poll, though he insisted there was no metastasis after the removal of another tumour.
"I will live! I will overcome!" the 57-year-old socialist leader said in a televised meeting with some cabinet colleagues from Cuba, where he underwent an operation six days ago for a recurrence of the cancer that first struck him last year.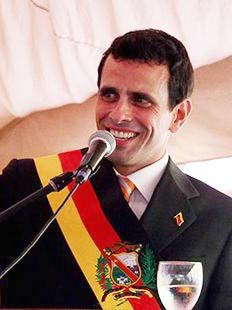 Chavez's comments about his health came at the end of a 90-minute address to Venezuelans, in which he expressed confidence in his recovery, told jokes, signed state papers and even broke into song.
He is seeking to extend his 13-year rule at a presidential election in October, but his health problems have raised doubts about his capacity to campaign for the presidency or to rule for another six-year term should he win.
Last year, Chavez claimed – wrongly – to be completely cured, so some Venezuelans are skeptical about his own diagnostics and rumors persist in some pro-opposition media circles that he could be dying.
YOUNG OPPONENT
His election rival, 39-year-old opposition leader and Miranda state governor Henrique Capriles, is keeping quiet on the health saga, simply wishing Chavez a speedy recovery. But Capriles may benefit politically from the contrast between his own image of youth and energy and that of the ailing president.
Underlining the volatile nature of politics in the polarized South American nation, Capriles' camp said Chavez supporters roughed up a camera crew and shot at his followers, injuring two during a campaign stop in a poor Caracas neighbourhood on Sunday.
"Sent by the Socialist Party, they tried to stop our visit with guns. The people came out to receive us anyway," Capriles said. "What's the fear? There is no obstacle that can stop a people who want change."
In Chavez's comments from Cuba, shown yesterday but recorded on Saturday, he varied between enthusiasm and introspection.
"We are all human, we are all extinguishable, more so with the life I have had, where one year seems like a hundred," said Chavez. He stormed to power as an outsider for the 1998 election and has since then survived street protests, a brief coup, an oil strike and the opprobrium of the United States.
Chavez gave no word on when he would return to Venezuela. He scoffed at "speculators with nothing better to do", who had suggested his cancer had spread – or metastasized – to other organs. Some pro-opposition journalists have reported that.
"They (doctors) proved the absence of any other lesions either locally, or in nearby organs, or in ones further away. Neither was there metastasis, thank God."
A two-centimeter (0.8-inch) tumour had been successfully removed from the same pelvic area where a larger, baseball-sized growth was taken out in 2011, Chavez said.
"My recovery is firm, fast and sustained, honestly,"
Radiation would, however, be needed, the president said, without giving details of how long it would take. If Chavez is prevented from actively campaigning, it would be the first time in about a dozen national polls that the famously energetic campaigner has not criss-crossed the nation to woo voters.
ALLIES VOW UNITY
In a carefully-choreographed appearance to project an image of being on top of government affairs, a smiling Chavez imparted numerous instructions and signed a raft of approvals for funds to be released for government projects.
"This event we are forced to face must not slow anything. On the contrary – we should accelerate. More spiritual force, more moral strength, more ideological muscle, more revolutionary strength," he said, as his aides applauded.
Around the Web