CARACAS, (Reuters) – Venezuela's Hugo Chavez said yesterday he had started radiation treatment in Cuba, where he could also meet Pope Benedict in the latest high profile development as the president tries to fight off cancer and win re-election.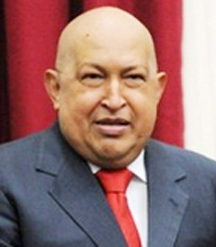 Chavez was back in Havana a month after he had surgery there to remove a second malignant tumor from his pelvis. The treatment will take him off the political stage just as his election rival gears up a nationwide campaign tour ahead of the Oct. 7 vote.
In a phone call to Venezuelan state TV, Chavez said he had undergone the first of five sessions of radiation therapy.
"Last night I had the first session, fortunately without any kind of problems. Early tonight I'll have a second application," he said. "God willing, I will be in Venezuela on Thursday."
The return of the socialist leader to the communist-led island will coincide with a rare visit to Cuba by the pope, and Venezuelans have been captivated by the possibility that Chavez, who says he has gained a new spiritual outlook on life since his illness, could have a private audience with him.
Around the Web