CARACAS,  (Reuters) – Venezuelan President Hugo Chavez is so determined to contain one of the world's highest inflation rates in an election year that his price control officials are sticking signs outside stores to enforce compliance.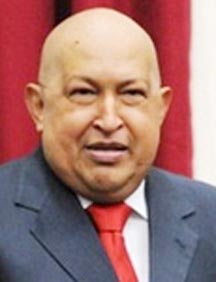 The red-yellow-green traffic light notices tell shoppers whether a store is obeying new price caps.
Businesses that don't comply face fines, temporary closure or outright expropriation by his socialist government.
The initial freezing of prices of 19 key goods in December has begun to kick in: Consumer prices rose 3.5 percent in the first three months of 2012, the lowest quarterly rate since the oil exporting country introduced a new index four years ago.
But most economists believe Chavez's efforts to contain inflation will have only short-term results because increased public spending in the runup to the Oct. 7 presidential election is bound to stoke prices again in the oil-producing OPEC nation. The analysts say price controls will only distort a highly regulated economy further and speed up inflation in the long run as the cheaper regulated goods become scarce and producers compensate their losses by raising prices on unregulated goods.
"What's happening is they are containing inflation but not really attacking the causes of inflation. In fact, many of the causes are being deepened," said economist Pedro Palma of the Caracas-based consultancy Ecoanalitica.
Chavez, who has nationalized great swathes of the Venezuelan economy, maintains that speculators and hoarders are fueling inflation, and he accuses his political opponents of trying to disrupt the economy to undermine his government.
"We will continue monitoring clothing, cars, food above all, medicine … to reduce speculation to zero because it is one of the main factors causing inflation," he vowed recently. "This is just the start." Despite suffering from an unspecified cancer, for which he is having radiation treatment in Cuba, Chavez is seeking another six-year term in October in the toughest election battle he has faced in 13 years in office.
Amid doubts over his health, Chavez's opposition is taking him to task for the high cost of living, a major gripe with voters, as well as over a rising crime rate that has made Venezuelan cities unsafe.
CASH INJECTION
Chavez has made clear that his election strategy is to put more money in the pockets of Venezuelans by stepping up an array of social programs that have redistributed income to the poor as part of his so-called socialist revolution.
The cash flow is expected to begin in the second quarter, and includes a 30 percent increase in the minimum wage that will be seen in paychecks in two stages, May and September.
Around the Web