(Jamaica Observer) Director of Public Prosecutions (DPP) Paula Llewellyn said the decision to charge broadcaster Wayne Whyte with wounding with intent and illegal possession of firearm, instead of attempted murder in the shooting of his co-worker Jody Ann Gray, was made in the interest of justice.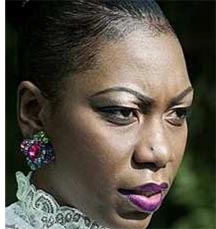 Llewellyn gave the explanation in an address to the Kiwanis Club of Kingston a few hours after Whyte and his co-accused Safari Farr appeared in the Spanish Town Resident Magistrate's (RM) Court on Tuesday.
Both men will, however, make their second court appearance on April 27 before the Gun Court where trials are held in camera. Noting that both charges of wounding with intent and attempted murder carry a similar penalty, the DPP insisted that this is just one example of the balancing act that prosecutors have to perform in respect of every single matter that is prosecuted.
According to the DPP, the police consulted with her office and were given the legal range of options by which they could be guided, given the nature of the case.
In this particular case, Llewellyn said the ingredients to prove wounding with intent are quite simple, with the prosecutor having to determine an intention to cause grievous bodily harm and also that when the particular projectile entered the victim there was a wound.
There is also the issue of establishing possession of a firearm, and this will be done by a judge alone in the Gun Court instead of a panel of jurors.
Whyte, a broadcaster at Kool FM, and Farr were remanded into custody yesterday by Senior Magistrate Marcia Dunbar-Green.
Whyte, Farr and another man were arrested by the police minutes after a gun attack on Gray, who is also a broadcaster at Kool FM, two weeks ago at her home at Cedar Grove in Portmore, St Catherine.
Gray, who is seven months pregnant, was shot in the face and shoulder. Police say that Whyte, who is believed to be the father of Gray's unborn child, and the two men were held by cops as they allegedly fled the scene in a motor car registered to a woman who shared Whyte's surname and with its licence plates covered with cardboard.
"If we had gone the route of attempted murder, which has similar ingredients, although the mental element may be a little bit more onerous to prove, what you will have is a situation where the complainant will have to give her evidence twice — once at the preliminary enquiry and second at the trial before the jury," Llewellyn told the Kiwanis at their weekly luncheon meeting at the Wyndham Kingston Hotel.
Around the Web