MIAMI,  (Reuters) – A Venezuelan Supreme Court judge who was removed from his post last month for assisting a drug trafficker has accused his former government bosses of systematic manipulation of the courts, including meddling in drug cases.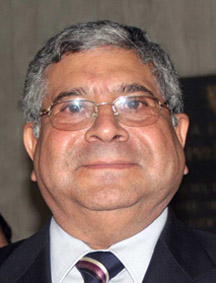 Eladio Aponte fled Venezuela two weeks ago and sought refuge in Costa Rica, where he was in contact with the U.S. Drug Enforcement Administration, according to local officials.
"It's very corrupt at every single level. There's a lot of manipulation," Aponte said in an interview with a Miami-based Spanish-language TV station, Soi TV, broadcast on Wednesday.
The interview was recorded before Aponte was flown out of Costa Rica on Tuesday aboard a U.S. government plane, the TV station said. It did not say where the plane took him.
DEA representatives in Miami and Washington declined to comment.
If Aponte's allegations are true, Washington would likely use any evidence of corruption to discredit the government of President Hugo Chavez, while also raising the prospect of charges being brought against senior Venezuelan officials.
Should Aponte agree to cooperate with the DEA, he will be the highest-ranking former Venezuelan official to testify about corruption in Chavez's socialist government.
The United States accuses the Venezuelan government of turning a blind eye to drug trafficking and appointing corrupt military officers to top positions.
For his part Chavez, who is battling cancer, says Venezuela has made great progress in fighting drug traffickers operating along its border with Colombia and accuses the United States of seeking to undermine his self-styled "revolution."
Robert Serra, a lawmaker from Chavez's ruling Socialist Party, told Venezuelan state TV on Wednesday that Aponte's backers were trying to turn a discredited figure into a new opposition cause celebre.
"Venezuela's opposition is crazy, out-of-date, out-of-touch, is losing its political values and has turned to this," he said.
"He is a fugitive from Venezuelan justice. They have opened criminal proceedings against him, so I cannot speak about the real facts of the trial."
Chavez ended cooperation with the DEA in 2005 amid accusations that its agents were spying and violating the sovereignty of Venezuela, a major oil-producing nation that provides close to 10 percent of U.S. crude and fuel imports.
Aponte, 63, left Venezuela after a National Assembly ethics hearing stripped him of his post as vice president of the Supreme Court and chief justice of the criminal appeals court.
WHEREABOUTS UNKNOWN
His current whereabouts are unknown, although a senior Costa Rican official confirmed Aponte left the Central American country on Tuesday morning on a U.S. government plane after speaking with DEA agents in the capital, San Jose.
"Mr. Aponte, when he was in Costa Rica, made direct contact with U.S. authorities … including the DEA," Mauricio Boraschi, Costa Rica's director of Intelligence and National Security, told Reuters on Wednesday.
Aponte was a low-profile military lawyer whose career took off as a result of a military purge by Chavez following a short-lived coup in 2002 during which the president was briefly ousted from office.
He was fired by the National Assembly after allegations surfaced that he had authorized the issuance of a special government identity card for Walid Makled, a Venezuelan businessman jailed on drug trafficking charges. Makled, who is wanted in the United States on drug trafficking charges, was arrested in neighbouring Colombia in 2010 and was later extradited to Venezuela.
In the 41-minute interview that Soi TV said was recorded in Costa Rica last week, Aponte admitted his role in supplying the identity card to Makled, but said he issued many of them and had no knowledge of his involvement in drug trafficking at the time.
Aponte said he knew Makled because they both hailed from the city of Valencia in the state of Carabobo, where Makled was a successful businessman involved in the oil industry, as well as government social programmes.
Around the Web