(Jamaica Observer) One of Jamaica's leading political scientists based in the United States has virtually written off the potential of a third party emerging and winning the hearts of the electorate in future elections.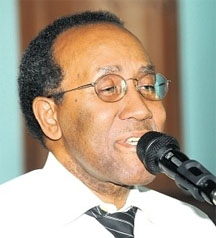 Professor Basil "Bagga" Wilson, retired provost of John Jay College of Criminal Justice in New York, said that former Cabinet minister Pearnel Charles' assessment that established parties had better watch themselves and perform better, or else a Third Party could pull the rug of power from under their feet, should not be taken that seriously.
"Our history of third parties is that they have failed to occupy any important space in our body politic. To establish a party you not only need extraordinary leadership, but you need to know how you are going to finance that party," Prof Wilson told the Jamaica Observer in an interview Tuesday, after delivering the lecture 'The Impact of Kingston College on Leadership in Jamaica since 1962.'
Charles told the Observer earlier this month in an interview that the low voter turnout in last December's general election and the even lower one during March's local government vote, should serve as a warning to the established organisations, the ruling People's National Party and his Jamaica Labour Party, that they needed to pull their socks up, as a Third Party could capture the vote of the disenchanted and sweep future elections.
But Prof Wilson, who now lectures at Monroe College in the USA, scoffed at the view. "To finance a party that is going to contest in 63 constituencies is an enormous undertaking, so it would mean planting seeds and developing them, but you can't develop a party unless its going to be able to assure the rest of the electorate that it has the competence and the ideological clarity to really move the society forward.
"The weaknesses of the two main political parties of being successful in bringing about economic development creates a certain potential of a space in the political system, but thus far nobody has been able to fill that space and to really make a difference as a Third Party.
"The history and the attempts to establish third parties in recent years have failed abysmally.
If Pearnel is talking about a break-off party that would carry maybe unions and a critical mass with them, that again would only leave that party in a weakened state and the other dominant party to be in a position to exercise hegemony. So it's a very difficult undertaking," he said.
Prof Wilson said that the younger voter had taken a different look at politics and was making it felt at the polls.
"Even though the political tribalism has diminished the loyalty to the respective parties, that loyalty has still remained incredibly high. One of the reasons why we have had such low voter turnout is that you have a younger generation that is indifferent to politics and realise that politics has not been able to deliver for them.
Around the Web