LIMA, (Reuters) – Public prosecutors in Peru have opened an inquiry against the leading foe of Newmont Mining's $4.8 billion Conga mine for apparently inciting a crowd to say President Ollanta Humala, who supports the project, should be "removed."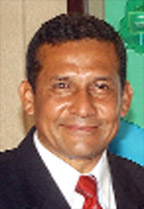 The fiery comments made on Tuesday by Gregorio Santos, the president of the northern region of Cajamarca, don't pose a risk to the stability of the government, political analysts said. But they were roundly criticized by lawmakers such as President of Congress Daniel Abugattas as an undemocratic call for a "rebellion" in a country that battled two leftist insurgencies in the 1990s.
"What happens when the president doesn't keep his word?" Santos asked a crowd thronging the main plaza in the city of Cajamarca. "The people remove him!," the crowd responded. "What happens when the president doesn't honor his obligations?" he asked the crowd. "He gets removed," his followers responded.
Santos has since partially retracted his comments and said he was only demanding a new constitution that would put poor farmers ahead of corporate profits. He has accused Humala, who cannot run for re-election when his terms ends in 2016, of cuddling up to big business and ignoring promises he made to rural voters during last year's presidential campaign.
Despite a decade-long economic boom driven by exports of natural resources, the poverty rate in mountainous provinces near mines is still around 60 percent.
The investigation could take several weeks, Ivan Constantino of the public prosecutors office in the provincial city of Lambayeque, where the inquiry will be conducted, said on Thursday.
Ines Fernandez Honores, a lawyer for Santos, said the inquiry was baseless.
"This has no merits," she told RPP radio.
The inquiry is the latest sign that a pitched battle over U.S.-based Newmont proposed gold mine – the largest mining investment in Peruvian history – is being taken from the streets to the courtroom as the government tries to ensure the project is built.
Santos already faces an ongoing, separate investigation for using public money to finance anti-mining protests – allegations he has denied.
Around the Web