HAVANA, (Reuters) – One of Cuba's best-known dissidents, Oswaldo Paya, leader of the Christian Liberation Movement, died yesterday in a car crash, religious and dissident sources said.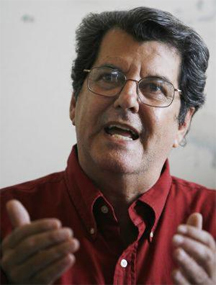 Paya, 60, was traveling in eastern Granma province at the time of the accident, the details of which are not known, the sources said.
According to dissident blogger Yoani Sanchez, who broke the news on Twitter, Paya's death was confirmed by the bishop of Granma, Carlos Amador.
Paya's family was not immediately available for comment.
In 2002, Paya spearheaded a petition campaign calling for a referendum on one-party rule and submitted more than 30,000 signatures.
The petition drive was rejected by the government, but Paya emerged as the leading advocate of peaceful democratic change in Communist-run Cuba.
Paya received the European Union's top human rights award in 2002, the Sakharov Prize, named after the late Soviet dissident Andrei Sakharov.
He was nominated twice for the Nobel Peace Prize by former Czech President Vaclav Havel.
Comments
CARACAS (Reuters) – Venezuela's opposition-controlled congress yesterday rejected the self-proclaimed lawmaking authority of a new legislative body elected last month at the behest of President Nicolas Maduro, widening the political divide in the crisis-hit country.
APUI, Brazil (Reuters) – The small town of Apui sits at the new frontline of Brazil's fight against advancing deforestation in the Amazon rainforest, where vast forest fires belch jet black smoke visible for miles and loggers denude the jungle.

MEXICO CITY,  (Reuters) – Mexico's foreign minister is in Havana hoping to persuade Cuba, one of Venezuela's top allies, to help resolve the tense political situation in the beleaguered South American nation, according to a senior Mexican official briefed about the trip.
CARACAS, (Reuters) – Venezuela's new legislative superbody yesterday gave itself the power to pass laws, superseding the opposition-led congress and fueling criticism by government adversaries that socialist President Nicolas Maduro is consolidating a dictatorship.

(Trinidad Express) The treatment of persons at the Immigration Detention Centre is heartbreaking and inhumane says Khafra Kambon, chairman of the Emancipation Support Group.