(Jamaica Gleaner) The Jamaican Government is keeping a close watch on the elections in Venezuela as the fate of the country's petroleum sector is tied up in the outcome of the polls which are due in less than two months.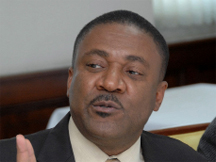 Energy Minister Phillip Paulwell says he is hopeful that President Hugo Chavez retains power as the stability of Jamaica's economy depends heavily on the election results.
This is because Venezuela's opposition leader, Henrique Capriles, who is seeking to unseat President Chavez, has expressed plans to scrap the PetroCaribe agreement.
Under the agreement, Jamaica and other selected Caribbean countries receive preferential treatment in buying oil from Venezuela. Paulwell says Jamaica is not in a position to lose PetroCaribe.
The energy minister says if the PetroCaribe deal should end, one of the biggest impacts would be seen in the amount of foreign currencies that Jamaica would have to pay out to purchase oil. Paulwell says this would have several effects especially as it relates to projects funded by the PetroCaribe Fund. The elections in Venezuela are slated for October 7.
Most opinion polls have so far given President Chavez a double digit lead over his opposition counterparts.
Around the Web