(Jamaica Gleaner) Prime Minister Portia Simpson Miller on Tuesday warned that the distribution of hurricane relief items will be made first to "the needy and not the greedy".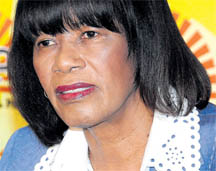 The prime minister was responding to questions from parliamentarians following her presentation to the House of Representatives in which she provided preliminary figures on the damage to the island inflicted by Hurricane Sandy last Wednesday.
"Those who lost everything should be the first to get assistance… it will be the needy, not the greedy," she said in giving assurance to Opposition West Portland member of parliament Daryl Vaz.
Insisting that the estimates were still preliminary, the prime minister veered away from providing a total figure but said, "even before the hurricane we faced serious economic challenges. This has been made worse by the passage of Hurricane Sandy".
So far, the figures presented by Simpson Miller see the Government being slapped with an over J$5 billion repair price tag.
Preliminary estimates for the agricultural sector, particularly the banana, plantain and cocoa industries and cash crops which suffered significant damage, amount to nearly J$1.5 billion. This also includes damage to coffee, coconut, livestock and vegetables.
Some 61 schools were affected, including significant damage to the College of Agriculture, Science and Education (CASE) where the assessments of damage so far total J$170 million.
In the meantime, she said several public health facilities were damaged by Sandy with the preliminary estimate for repairs being set at J$160 million. Eleven facilities, including children's homes and places of safety, suffered damage estimated at J$9.25 million. In addition, there was approximately J$31 million worth of damage to roofs, the jetty at the Discovery Bay installation and other Jamaica Defence Force facilities, while damage to buildings, vehicles and communication systems of the Jamaica Constabulary Force total J$6.3 million. The Depart-ment of Correctional Services has also reported damage estimates of J$5.1 million, which include roof damage at Fort Augusta (the prison for women) and fencing at Hill Top Juvenile Centre.
On Tuesday, the prime minister said on top of the damage caused by Sandy, the Government also has to grapple with the repair bill for earlier rains over the period September 28 to October 2.
"The estimate of the damage done to roads and other infrastructure by those rains is just under J$1.1 billion. Of that, J$300 million has either been spent or will be spent on temporary restoration works and J$770 million is needed for permanent restoration works," she told Parliament.
She said the preliminary estimate of damage to parish council roads was now at J$1.5 billion, but stood to rise further as "we have not received full reports".
"J$700 million is needed for temporary restoration works and just under J$800 million for permanent restoration works. All in all, we are talking about, as a preliminary estimate, a total amount of just under J$2.6 billion," Simpson Miller said.
In the meantime, she said Jamaica has had pledges of support from USAID, the governments of Japan, Germany and France as well as the Caribbean Develop-ment Bank and the Caribbean Disaster and Emergency Management Agency.
Around the Web