BRASILIA,  (Reuters) – A chief of staff to former President Luiz Inacio Lula da Silva and fellow founder of Brazil's ruling Workers' Party was sentenced yesterday to over 10 years in prison for running a congressional vote-buying scheme almost a decade ago.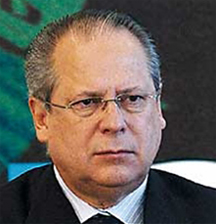 Culminating the biggest political corruption trial in modern Brazilian history, the once-powerful Jose Dirceu, 66, received a 10-year and 10-month sentence for heading a bribery scheme in which Workers' Party officials and associates paid lawmakers a monthly retainer in exchange for support of their initiatives during the early years of Lula's first term.
The high-profile case, heard by Brazil's Supreme Court, has gripped Brazil for more than a month, bringing an unprecedented level of accountability to a country long-accustomed to widespread corruption.
For many Brazilians, the convictions show that their country's democratic institutions while not perfect have matured, especially a judicial system that historically was unable and often unwilling to tackle corrupt politicians. The trial has been all the more surprising because the Workers' Party is still in power and most of the justices were appointed by Lula or his chosen successor, President Dilma Rousseff.
The court sentenced Jose Genoino, the president of the Worker's Party when the scandal broke in 2005, to six years and 11 months in prison, and its then-Treasurer Delubio Soares got eight years and 11 months. Dirceu was also ordered to pay a 676,000 reais ($329,700) fine.
Last month, the court convicted 25 people, including Dirceu, for diverting at least $35 million in public money to bribe legislators to support Lula's minority government during his first two years in office.
Lula's first term, from 2003 through 2006, was crippled by the scandal though the former president, amid an economic boom, was easily re-elected for a second four-year term. Lula, who was not charged in the scandal, has denied any knowledge of the scheme and has even suggested it never existed.
Though Lula remains Brazil's most popular politician, the convictions have tarnished the memory of his time in office and marred his legacy.
Dirceu, who helped Lula found the Workers' Party in 1980, was found guilty of corruption and conspiring with others to break the law by running the scheme. Known as the mensalo, or "big monthly payment," the plot diverted public funds through front companies to pay the lawmakers.
Comments

(Jamaica Gleaner) Halt the "ill-conceived" agreement that guarantees Chinese investors US$1 million in the Government Oval project, local construction players are demanding of the Government in an intensification of their lobby against the deal.

CARACAS/BOGOTA, (Reuters) – Relations between Caracas and Washington are at their lowest point ever, Venezuela's President Nicolas Maduro said yesterday in a speech at the presidential palace for international media that was televised to the nation.
RIO DE JANEIRO,  (Reuters) – Brazilian prosecutors yesterday charged Aldemir Bendine, the former chief executive of state-controlled oil firm Petroleo Brasileiro SA, with corruption, alleging he used his position to take bribes from construction firm Odebrecht.

(Trinidad Express) Prime Minister Dr. Keith Rowley admitted yesterday that something went drastically wrong and was crooked in the procurement of the passenger ferry the Ocean Flower 2.
SANTIAGO, (Reuters) – A Chilean court on Monday ruled that a law legalizing abortion in certain cases is constitutional, a win for President Michelle Bachelet's centre-left coalition and for groups that have campaigned for years against the country's strict ban.