MEXICO CITY (Reuters) – US anti-virus software guru John McAfee said yesterday he has left the tropical paradise of Belize, where police want to question him in connection with his neighbour's murder.
McAfee has been in hiding since police said they wanted to question him as "a person of interest" about the murder of fellow American Gregory Faull, with whom McAfee had quarreled.
McAfee says he believes authorities in Belize would kill him if he turned himself in for questioning. Belize's prime minister has called the 67-year-old "bonkers".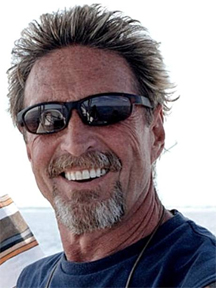 "We are not in Belize, but not quite out of the woods yet," McAfee wrote on his blog www.whoismcafee.com, saying he was accompanied by two journalists and a woman called Sam.
He said he had sent a body double to the Belize-Mexico border to act as a smokescreen and help him elude authorities. "My double, carrying a North Korean passport under my name, was in fact detained in Mexico for pre-planned misbehaviour," McAfee wrote on the blog.
"But due to indifference on the part of authorities (he) was evicted from the jail and was unable to serve his intended purpose in our exit plan. He is now safely out of Mexico."
Police in Belize say McAfee is still at large and are looking for him.
"We still believe that he is here, somewhere in the country," said police spokesman Raphael Martinez.
McAfee, who started McAfee Associates in 1989, has been living in the tiny Central American nation for about 4 years.
Comments

MEXICO CITY,  (Reuters) – Mexico's foreign minister is in Havana hoping to persuade Cuba, one of Venezuela's top allies, to help resolve the tense political situation in the beleaguered South American nation, according to a senior Mexican official briefed about the trip.
CARACAS, (Reuters) – Venezuela's new legislative superbody yesterday gave itself the power to pass laws, superseding the opposition-led congress and fueling criticism by government adversaries that socialist President Nicolas Maduro is consolidating a dictatorship.

(Trinidad Express) The treatment of persons at the Immigration Detention Centre is heartbreaking and inhumane says Khafra Kambon, chairman of the Emancipation Support Group.

(Trinidad Express) A magistrates' court employee charged with wasteful employment of the police after she allegedly made a false report that she was raped, appeared before a Princes Town magistrate yesterday.
TORONTO/MONTREAL, (Reuters) – The number of asylum seekers who illegally crossed the U.S.