BRASILIA/CARACAS,  (Reuters) – Venezuelan President Hugo Chavez will not attend a regional trade summit in Brazil today, sources said, an absence sure to heighten speculation over the leftist leader's health.
Before he went to Cuba last week for more cancer-related treatment, Chavez had spoken enthusiastically about attending the Mercosur bloc's meeting in Brasilia to celebrate Venezuela's entry.
He has not been seen in public since Nov. 15.
"Chavez is not coming. They've even canceled the hotel reservation," a Brazilian foreign ministry source said on Thursday. Another Brazilian official said Chavez's logistics and security advance staff were leaving Brasilia.
In Caracas, a source at the Miraflores presidential palace also said Chavez, 58, was not going to travel.
The recently re-elected president went to Cuba nine days ago for "hyperbaric oxygenation" treatment – normally used to treat bone decay caused by radiation therapy.
Chavez has had three cancer surgeries in Cuba since mid-2011. So even though officials were portraying the latest treatment as normal follow-up after radiation, rumors are rampant that it could be more serious.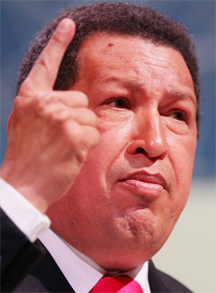 "If Chavez does not show up at the first meeting where Venezuela is a full member of Mercosur, it will create a lot of distrust over his health," said Marcelo Coutinho, professor of international relations at Rio de Janeiro's Federal University.
Officials have given no detailed information on Chavez's condition.
SPECULATION AND SCENARIOS
His presence in Cuba, where Chavez has spent more than three months in total since his first 2011 diagnosis of cancer in the pelvic region, has overshadowed Dec. 16 regional elections.
Without him on the campaign trail or television, the race for 23 governorships has been a low-key one, failing to light up the public like October's presidential election did with a record voter turnout of more than 80 percent.
Although Chavez continues to sign official papers and make appointments from Cuba, his absence may delay decisions on some major issues like a possible devaluation of the bolivar currency or an amnesty for jailed opponents.
Various ministers have been visiting him in Havana this week, according to Venezuelan officials.
Chavez allies have lambasted media and others for behaving like "vampires" with speculation about his condition. One pro-opposition journalist said he was using a wheelchair. Bonds have rallied since his departure, on investor hopes for a change to a more business-friendly government.
Newly appointed Vice President Nicolas Maduro, 49 – a former bus driver and union leader – has assumed a more prominent position amid speculation among Venezuelans over who could replace Chavez should he leave office.
Maduro, who is also foreign minister, was due to represent Venezuela at the Mercosur meeting in Brazil.
Congress chief Diosdado Cabello, a former military comrade of Chavez, is also often touted as a possible successor to lead the ruling Socialist Party.
Under the constitution, an election would have to be held if Chavez were to leave office within the first four years of his new six-year term, which starts on Jan. 10.
That would give a fresh chance to the opposition, which garnered 44 percent of the vote – and a record number of 6.5 million votes – in the October presidential poll.
An internal U.N. report seen by Reuters drew three possible scenarios.
"If Chavez lives, his term will continue to face monumental political, economic and security challenges. If Chavez accepts his mortality and organizes a managed transition, a unified PSUV would likely fare well in a snap election," the report said.
"If Chavez dies unexpectedly without a clear successor, a unified opposition – likely behind former presidential candidate Henrique Capriles Radonski – would stand its best chance to come to power in over a decade."
Comments

(Jamaica Gleaner) Halt the "ill-conceived" agreement that guarantees Chinese investors US$1 million in the Government Oval project, local construction players are demanding of the Government in an intensification of their lobby against the deal.

CARACAS/BOGOTA, (Reuters) – Relations between Caracas and Washington are at their lowest point ever, Venezuela's President Nicolas Maduro said yesterday in a speech at the presidential palace for international media that was televised to the nation.
RIO DE JANEIRO,  (Reuters) – Brazilian prosecutors yesterday charged Aldemir Bendine, the former chief executive of state-controlled oil firm Petroleo Brasileiro SA, with corruption, alleging he used his position to take bribes from construction firm Odebrecht.

(Trinidad Express) Prime Minister Dr. Keith Rowley admitted yesterday that something went drastically wrong and was crooked in the procurement of the passenger ferry the Ocean Flower 2.
SANTIAGO, (Reuters) – A Chilean court on Monday ruled that a law legalizing abortion in certain cases is constitutional, a win for President Michelle Bachelet's centre-left coalition and for groups that have campaigned for years against the country's strict ban.