(Jamaica Gleaner) The Carib-bean Court of Justice (CCJ) is to sit in Jamaica for the first time from March 4 – 12 to hear the Shanique Myrie case.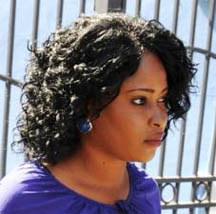 Myrie has taken the Barbadian Government to the CCJ on allegations that she was assaulted by an immigration officer last year.
The court had a case management hearing today and the trial dates were set.
Myrie's lawyer Michelle Brown asked for the first part of the trial to be held in Jamaica because it will be too costly for Jamaican witnesses to travel to Barbados and Trinidad.
She says the CCJ's panel of judges will be coming in March and the hearings will be held either at the Supreme Court or the Court of Appeal.
The attorney says the second part of the hearing will be from March 18 – 22 in Barbados and that lawyers will make oral submissions in Trinidad from April 8-9.
She also says the court is anxious to have matter heard and completed early.
Myrie has accused Barbadian border officials of assaulting her during a cavity search at the Grantley Adams International Airport on March 14 last year.
She also claims that she was subjected to forceful and brutish language by airport officials on her arrival.
Myrie wants the CCJ to determine the minimum standard of treatment to be given to CARICOM nationals moving within the region under the Revised Treaty of Chaguaramas and its goal of hassle-free travel.
Comments

MEXICO CITY,  (Reuters) – Mexico's foreign minister is in Havana hoping to persuade Cuba, one of Venezuela's top allies, to help resolve the tense political situation in the beleaguered South American nation, according to a senior Mexican official briefed about the trip.
CARACAS, (Reuters) – Venezuela's new legislative superbody yesterday gave itself the power to pass laws, superseding the opposition-led congress and fueling criticism by government adversaries that socialist President Nicolas Maduro is consolidating a dictatorship.

(Trinidad Express) The treatment of persons at the Immigration Detention Centre is heartbreaking and inhumane says Khafra Kambon, chairman of the Emancipation Support Group.

(Trinidad Express) A magistrates' court employee charged with wasteful employment of the police after she allegedly made a false report that she was raped, appeared before a Princes Town magistrate yesterday.
TORONTO/MONTREAL, (Reuters) – The number of asylum seekers who illegally crossed the U.S.