Attorney-at-Law James Bond dismissed reports of him recently assaulting a barber and stated that the issue was nothing but a "gross misunderstanding".
When contacted yesterday, Bond said that he and Adrian Williams only had a minor dispute via Blackberry Messenger and that there was no physical violence involved.
"I didn't hit him or anything or the sort… It was just certain things people said on BBM like he was slandering and kind of a pervert and he got upset and I can understand that… But there was no violence on my part," Bond said.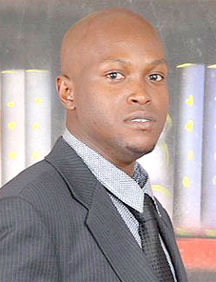 Bond emphasized that it was a disagreement that was blown out of proportion and added that he had just left Williams' barbershop, where he had visited for the first time yesterday afternoon to settle the matter. "We both want to bury the hatchet," he further stated.
When Stabroek News visited the East Ruimveldt barbershop yesterday, Williams reiterated what was said by Bond and pointed out that no further action will be taken.
"It has been resolved… I don't have any knowledge of him being charged," the man said. He noted that he has since visited the Ruimveldt Police Station where he told the police of his intention to drop the matter.
However, Bond told this newspaper that he has been charged nevertheless.
The attorney is scheduled to make an appearance at the Georgetown Magistrates' Court today where he will face charges of assault, threatening language and damage to property.
Comments

The Georgetown District of the People's National Congress Reform (PNCR) today called for tougher action by the Ministry of Public Security and the Judiciary against crime in the wake of the murder of two elderly women.

Moruga/Tableland MP Dr Lovell Francis chats with two of his constituents whose yard was flooded following heavy overnight rains into yesterday.

India-born South African businessmen brothers, Atul, Rajesh and Ajay Rajesh Gupta. The Gupta family, one of South Africa's wealthiest, has been accused of wielding undue influence behind the scenes.

Although government's advisor on oil and gas, Jan Mangal, has argued that competitive bidding should be employed in the award of future oil exploration leases, Minister of Foreign Affairs Carl Greenidge says such an approach may not benefit Guyana's interests in the long term.

Police investigators will be focusing on the alleged sexual abuse of a 15-year-old boy committed by a city constabulary officer two months ago and not on the failure of the Mayor of City Council (M&CC) of Georgetown to report the case in a timely manner, 'A' Division Commander Marlon Chapman said yesterday.