Attorney-at-Law James Bond dismissed reports of him recently assaulting a barber and stated that the issue was nothing but a "gross misunderstanding".
When contacted yesterday, Bond said that he and Adrian Williams only had a minor dispute via Blackberry Messenger and that there was no physical violence involved.
"I didn't hit him or anything or the sort… It was just certain things people said on BBM like he was slandering and kind of a pervert and he got upset and I can understand that… But there was no violence on my part," Bond said.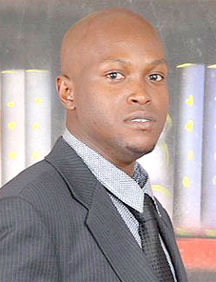 Bond emphasized that it was a disagreement that was blown out of proportion and added that he had just left Williams' barbershop, where he had visited for the first time yesterday afternoon to settle the matter. "We both want to bury the hatchet," he further stated.
When Stabroek News visited the East Ruimveldt barbershop yesterday, Williams reiterated what was said by Bond and pointed out that no further action will be taken.
"It has been resolved… I don't have any knowledge of him being charged," the man said. He noted that he has since visited the Ruimveldt Police Station where he told the police of his intention to drop the matter.
However, Bond told this newspaper that he has been charged nevertheless.
The attorney is scheduled to make an appearance at the Georgetown Magistrates' Court today where he will face charges of assault, threatening language and damage to property.
Comments

President David Granger, earlier today, attended the wedding reception of Minister within the Ministry of Communities with responsibility for Housing, Valerie Patterson- Yearwood and .

Grace Mugabe   JOHANNESBURG,  (Reuters) – South African police confirmed on Wednesday that Zimbabwean first lady Grace Mugabe remained in the country and had applied for diplomatic immunity after being accused of assaulting a 20-year-old model in an upmarket Johannesburg hotel.

Daniel Craig   LONDON, (Reuters) – British actor Daniel Craig has confirmed he will reprise the role of James Bond one last time, ending months of speculation.

UN experts condemn racist violence in U.S., urge investigations GENEVA, (Reuters) – United Nations human rights experts called on the United States today to combat rising racist violence and xenophobia and to prosecute perpetrators of hate crimes.

The twin-engine Beechcraft seized by authorities on an improvised airstrip on Sunday in the North Rupununi, Region Nine area, was yesterday confirmed as bearing a registration number belonging to an investment company in Brazil.