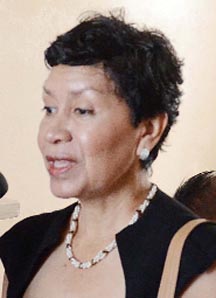 Opposition Leader David Granger yesterday said that the rape allegation against Police Commissioner Henry Greene has created a moral "crisis" in the Guyana Police Force and such he should demit office.
"His presence is worse than controversial. It has created a crisis in command and the Police Force cannot function if he remains", the retired Brigadier said while making it very clear that he was not "making a judgment on innocent or guilty".
Granger speaking for the first on the issue which became public several months ago said that his concern at this point is that the public has lost all confidence in Greene and the whole issue has evolved into a moral problem within the force.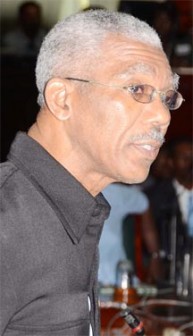 "My concern is that from the point of view of a person holding such a high position in the principal law enforcement agency,  it appears that the confidence of the public has been withdrawn from him and I do believe that there is a moral problem in the force as well as a result of this ongoing crisis", he said.
Granger noted during a parliamentary break that he believes it would be better for the GPF and law enforcement as a whole if the top cop withdraws from his position as Commissioner of Police.
He shared the views of many others including that of Education Minister Priya Manickchand who is the first and only government official to have spoken publically on the issue. Manickchand, the former Human Services Minister had said in an interview with this newspaper that Greene should go because of his improper behaviour in a case that has put him on the brink of a rape charge.
The Opposition Leader stressed that the point he is trying to make is that this crisis has damaged Greene's reputation and "has impaired the effectiveness of the Guyana Police Force".
He later distanced himself from commenting on the recent decision of Acting Chief Justice Ian Chang to quash the rape advice given by the Director of Public Prosecutions to charge Greene with rape.
"I don't wish to comment on the legal aspect of the matter", he stressed.
Last December a 34-year-old mother of two in the presence of her attorney Nigel Hughes had detailed how she was allegedly raped by Greene at a city hotel. The incident reportedly occurred after the woman had gone to Greene's Eve Leary office to seek his assistance in a police matter in which she was the subject of an investigation. She had been accused of extortion.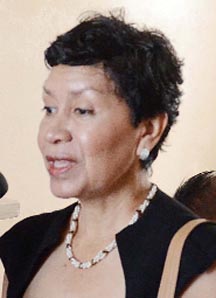 A team of Jamaican ranks travelled to Guyana to assist the local ranks with the probe and after several days during which 35 persons were interviewed and evidence collected, they left. The file was then sent to the DPP who weeks later advised that Greene be charged with rape.
However, before police could institute charges, a battery of lawyers moved to the court and secured temporary orders barring the charge. The case came to an end about three weeks ago with Justice Chang ruling in Greene's favour. The police can still charge Greene with rape but cannot use the advice of the DPP.
Attorney General Anil Nandlall has advised the DPP not to appeal the CJ's decision but noted that she could seek a second opinion if she wished. Despite numerous efforts this newspaper has been unable to secure a comment from the DPP. Yesterday a source indicated that the DPP would not be appealing the decision.
Professional
misconduct
Meanwhile Alliance For Change (AFC) member Valerie Garrido-Lowe has joined her fellow female parliamentarians in calling for Greene to go.
She said that Greene has clearly displayed professional misconduct and as such should be dismissed. Garrido-Lowe said that she chose to bring the issue before parliament last week as she felt that it was the highest forum it could reach. She spoke on the issue during her budget presentation.
"If it cannot stop at the top what do you tell people at the bottom", she said pointing out that if an ordinary man had been accused of rape, he would have already been placed before the court and remanded to prison. "So it's double standard and you can't have double standards and it has to be cut out from the top. I am joining the calls for him to go…For him to be dismissed", she added.
She said that even if it is a case where the sex was consensual she felt that "he did use his position to ask for sex therefore abusing his office".
The politician later expressed the belief that the Chief Justice should have allowed the case to go to court as the DPP had advised. "He should not have interfered in this".
Comments

(Barbados Nation) Three Caribbean airlines have formed an alliance which promises to make it easier and cheaper for travellers to move between 32 countries.

To guard its independence and neutrality from political interference the National Toshaos Council (NTC) has developed a political neutrality statement that was adopted by the executive during its just-concluded executive meeting, says its Vice-Chairman Lenox Shuman.

The Police Office of Professional Responsibi-lity (OPR) has launched an investigation into a report of "seemingly massive irregularities" in the Guyana Police Force's learner driver's theoretical examination last Thursday at the Felix Austin Police College, Georgetown.

A US-based Guyanese, who became paralysed after being shot on the West Coast of Demerara in 2016, was stabbed to death on Tuesday in Brooklyn, New York.