A 28-year old Georgetown Prison Officer was yesterday electrocuted at his Anns Grove, East Coast Demerara home, while attempting to replace a burnt drop cord from his domestic transformer.
Dead is father of two, Collin Bryan Gravesande of Lot 62 Main Street, Anns Grove, ECD.
According to Gravesande's reputed wife, Teshia Collins, the incident occurred sometime around 5:10 pm while he was trying to replace the burnt cord from a transformer in the shop they operated.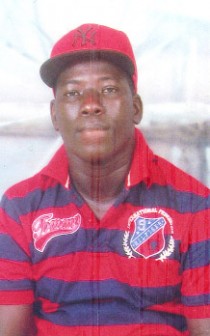 "I was bathing my son and then me and me next sister went inside and the I hear ow and then I run come to he and I see he deh pon the ground and I touch he and I get shock so I loose off," the grieving woman related.
She added that after she loosened her grip on Gravesande he pointed to the wire that was plugged into the wall socket and she immediately removed the cord.
She said "I pull out the wire and hold he and I say 'wha happen to you,' 'wha happen to you' by then them neighbours had already come and them rub he up with methylated."
She added that before they arrived at a Doctor at Cove & John, ECD, he had already died.
The grieving woman said that before the incident she and Gravesande were constructing their home behind the one they are currently living in.
Collins said that their nine-year union bore two children ages two and seven and that he was the sole breadwinner of the family.
Gravesande's mother, Evelyn Gravesande said that her son had been a Prison Officer for approximately eight years and she was informed of the incident sometime around 5:15 pm, a few minutes after she had just returned from work.
She said "One of his sisters in law came running to me telling me that Uncle just get shock and he fall down and he ain't saying nothing."
She added that by the time she arrived at the scene they had already transported him to the doctor at Cove & John where he was pronounced dead. She said that his tongue was blue in colour and he was frothing.
She said "So I tried finding out what exactly happened and they say that he went to unplug some wire and he get shock.
It was a transformer and the current pitch he and he knock he head and after that he was not conscious after that till he died."
Comments

Wijeyadasa Rajapakshe   COLOMBO, (Reuters) – Sri Lankan President Maithripala Sirisena today sacked the justice minister over his criticism of a $1.1 billion deal, signed last month, to lease a port to a Chinese company, the cabinet spokesman said.

NEW YORK,  (Reuters) – Two Harvard University researchers said in a study published today they had collected scientific data proving Exxon Mobil Corp made "explicit factual misrepresentations" in newspaper ads it purchased to convey its views on the oil industry and climate science.

In the wake of rising bad loans and a massive alleged fraud against it this year, the Guyana Bank for Trade and Industry (GBTI) has posted an unaudited net after tax profit of $603m for the first six months of this year compared to $961m in the same period for 2016.

Vamanadev Hiralall, of the privately-run Saraswati Vidya Niketan (SVN), is the country's top performer at this year's Caribbean Advanced Proficiency Examinations (CAPE) after achieving an accumulated 13 grade one and 3 grade two passes.

Twenty-six students in the top one percent of the 12,684 who sat this year's Caribbean Secondary Education Certification (CSEC) examinations earned 12 or more Grade I passes, with half of them, including the top performer, coming from Queen's College (QC).