A US$8.5 million ($1.7B) Trust to manage Guyana's protected areas, funded by the German Government and Conservation International was launched on Friday amid assurances that logging, mining and other natural resources industries would not be affected.
"I would like to state clearly that establishing a system of protected areas and pursing the utilization of our natural resources are not mutually exclusive, but rather complementary activities. This will not lead to any reduction of mining, forestry or any other extractive activity," Natural Resources and Environment Minister, Robert Persaud, said at the launching at the Umana Yana.
Financing for the Trust comes from the German Government through its development bank, KfW, which provided US$5 million with another US$3.5 million coming from Conservation International's (CI) Global Conservation Fund, made possible by a grant from the Gordon and Betty Moore Foundation.
The fund will provide long-term financing for the management of Guyana's intact protected areas system (PAS) and will support efforts by the government, along with local communities, to manage the country's PAS. The fund was established in part to recognize the outstanding contribution of the PAS initiative for Guyana, the region and the world.
The protected areas are the Kanuku Mountains, Shell Beach, Kaieteur National Park and Iwokrama Rainforest Reserve, and the community-owned Conservation Area at Konashen which together account for almost 9% of Guyana.
Guyana's policy is to take a parks-with-people approach to protected areas. Persaud told the gathering that included top Western diplomats, environmentalists, members of civil society and politicians, that protected areas are not just important tools for the conservation of biodiversity, but are a key piece of the sustainable development puzzle.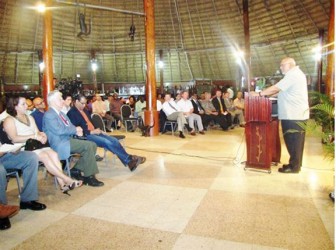 "We recognize that effectively managed protected areas provide important services, such as the maintenance of essential water supplies and climate change mitigation and adaptation, while creating investment opportunities and employment," he added.
The minister said the National Protected Areas System would serve as the basis of expanding sustainable utilization of our natural resources.  "In fact, protected areas that are established in isolation often fail to effectively achieve the goals of biodiversity conservation," he cautioned.
A Protected Areas Commission is to be established. The Board of Directors was appointed in February 2012
Government says the commission will benefit significantly from Phase II of the KfW funded Guyana Protected Areas System Project, which provides US$1.5 million for the establishment of the commission's offices, the development of a management plan for Shell Beach, and additional community livelihood support.
Persaud also announced that the Ministry of Natural Resources and the Environment, with support from the United Nations Development Programme (UNDP), has started national strategic planning to integrate the approach to natural resources and environmental management. "It is our intention to ensure that protected areas are integrated into wider landscape use and management," he said.
According to the minister, this would allow protected areas to take their place alongside sustainable forestry, mining, oil and gas, alternative energy development and other important natural resource-based industries as they collectively contribute to Guyana's sustainable development.
Former president Bharrat Jagdeo came in for praise at the evening's event since reference was made to his role in Guyana's Low Carbon Development Strategy (LCDS) of which the protected areas are an integral part.
"This is a major achievement for Guyana. It represents a long-term commitment to conserving the country's unique biodiversity and forest resources, and recognizing them as central to the success of the Low Carbon Development Strategy that the country has embarked upon," said Dr Russell Mittermeier, President of Conservation International, in his address.
Stating that citizens should be proud of Guyana's rainforest, which is a global example of its natural wealth, Mittermeier said, "Guyana is one of the very few places in the world where one can still find such huge areas of intact wilderness, which represent the country's renewable natural capital and will enable Guyana to develop a model green economy for the future. The Conservation Trust Fund will help to provide the financial support necessary to ensure the protection of critical ecosystems and to ensure that they continue to provide the wide range of ecosystem services necessary for the long-term well-being of Guyana's people."
He stated that with its biodiversity this country has the ability to compete globally in terms of eco tourism. He made reference to his numerous travels worldwide emphasizing that 90% of the rainforest still remains virgin and comes with species of tropical animals on the brink of extinction in other parts of the world.
"Recent achievements in the establishment of the Guyana Protected Areas System represent a compelling example of joint collaboration between national governments, international nongovernmental organizations and official development assistance under the umbrella of a comprehensive national policy. The German government is looking forward to further support this process," said German Ambassador, Stefan Schlϋter, in brief remarks. He envisions that in the coming years, when put to proper use, the trust will multiply and see numerous benefits for Guyanese generations to come.
(Marcelle Thomas)
Comments

President David Granger this morning said that while he does not believe that the placing of the US$18M ExxonMobil signing bonus into a Bank of Guyana (BoG) account instead of the Consolidated Fund violates any laws, if advised by his legal team that the act was unlawful he will correct it.

As investigators continue to pay more attention to robbery under arms involving the theft of motor cars, their efforts are being rewarded, the police said today.


(Trinidad Guardian) Three days after PC Richard Babwah was killed during a shootout with bandits, another officer was shot under similar circumstances in Marabella.

Admitting that it was he who advised President David Granger to not disclose the ExxonMobil US$18M signature bonus, Minister of Foreign Affairs, Carl Greenidge  yesterday said that he thought then and still believes that publicising of the deal holds serious implications for Guyana pertaining to the border controversy with Venezuela.