President of Conservation International (CI) Russell Mittermeier recently held talks with President Donald Ramotar about the country's prospects to have some of its sites inscribed on the World Heritage List, the Govern-ment Information Agency (GINA) has reported.
According to GINA, Mittermeier, who met Ramotar just hours before attending the launch of the Conservation International Trust Fund on July 27, believes there is enough evidence to support Guyana's case, while pointing to the capital Georgetown with its historical buildings and other examples of the material heritage.
Many of these sites have been commissioned with interpretative heritage markers erected by the Ministry of Culture, Youth and Sport to create education and awareness about their importance and symbolism, GINA said. It added that up to May last year, 30 such markers had been erected near historic monuments, buildings and other sites.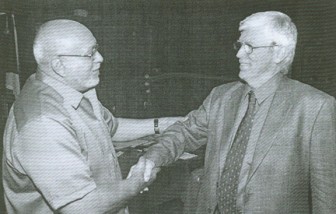 Mittermeier also made reference to the magnificent Kaieteur Falls, the world's largest single drop falls, the Kanuku Mountains, Shell Beach, Iwokrama and other ecosystem resources that are now within the ambit of protected areas, as he spoke of Guyana's potential.
The passage of legislation last year paved the way for the Kanuku Mountains and Shell beach to be included on the list of protected areas and the launching of the CI Trust Fund seeks to supplement the long-term viability of these areas, GINA said. The fund will start off with a budget of US$8M and Mittermeier is hopeful that the allocation will shore-up to US$30M to sufficiently cover the cost of sustaining protected areas, it added.
Comments

Gregory Bascom, the city policeman who allegedly fatally shot mentally ill vendor Marlon Fredericks after he reportedly attempted to flee custody on Sunday, was today charged with manslaughter and released on $800,000 bail.


The National Accreditation Council of Guyana (NAC) is advising the public that the American Medical Institution is not registered with the NAC as is legally required for post-secondary and tertiary educational institutions operating in Guyana.

MUMBAI, (Reuters) – India captain Virat Kohli had something to cheer on Thursday when he was named ICC World Cricketer of the Year, a day after suffering his first test series defeat as skipper in South Africa.

Fifteen city councillors voted yesterday in favour of accepting the recommendations of the parking meter renegotiation committee, which would see a reduction in parking fees to $150 per hour, exemptions for religious organisations and schools, and Smart City Solutions (SCS) giving up on their claim to garage parking.

A GDF rank was yesterday remanded to prison over three armed robbery charges and alleged possession of an unlicensed gun and ammunition.