Twenty-two-year-old Immigration Officer, Omadara Anthony of Calcutta, Mahaicony died at the Georgetown Public Hospital Corporation (GPHC) yesterday morning while undergoing a Caesarean section for her first child.
The baby girl appears to be healthy, but was being kept yesterday for observation. The woman who had a healthy full-term pregnancy apparently developed complications during the surgery.
The GPHC yesterday said that a maternal mortality review of the case has begun. A number of maternity deaths have occurred this year, raising concerns about that quality of health care in the various institutions the women came into contact with.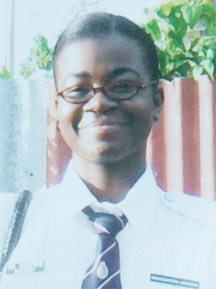 Anthony's mother, Hatty Anthony said she is not sure what caused her daughter to lose her life. When asked if the young mother's death was a result of haemorrhaging as is the case of most maternal deaths, she responded that she "did not hear that."
The woman said "the doctor tried to talk to me but I was crying all the time and I was not in a frame of mind to pay attention to what he was saying."
He recalled that he mentioned that "she went through well and he don't know what happened." She is awaiting the post-mortem examination which would be performed tomorrow.
Anthony recalled that she took her daughter to the hospital late Monday evening after she started experiencing labour pain.
She returned on Tuesday to see her and everything was fine with her.
She was on her way back to the hospital yesterday for her "normal midday visit," expecting to see both mother and baby in the ward.
It was during the journey around 10 am when a relative called to say Omadara had died. Anthony said she was very excited to welcome her first grandchild into the family and was shocked at the news.
Her daughter too was excited about preparing for the baby and had already bought everything for her. According to her, Omadara, the third of four siblings never had complications during her pregnancy.
She even went to work on Monday in Georgetown without any problems.
A relative whom this newspaper spoke to earlier said Omadara was a friendly person and that the "whole village is in mourning."
Meanwhile, though it did not name her, the GPHC yesterday stated that the patient died at 10:00h yesterday.
A release from the hospital said that the patient arrived at GPHC's Pre-natal unit at 14:10h on August 7, 2012. It said that she was immediately received by a doctor who administered medication.
"The foetus' maturity level was at 39 weeks and she had a steady heart rate. The patient was continuously monitored and at 08:45h on August 8, 2012, she was transferred to the operating theatre for a cesarean section.
"At 08:52h a live baby girl was extracted. However, the patient experienced a cardiac arrest immediately after surgery. Several attempts were made to resuscitate the patient; unfortunately she succumbed", the hospital said.
The statement said that efforts are being made to gather information about her medical history since she was not registered at the GPHC's ante-natal clinic.
"As with any death that occurs, GPHC shares in the loss and grief of the relatives of the deceased. As such, management of GPHC wishes to express its sincere condolences to the relatives of the patient and wishes to advise that a maternal mortality review of the case has already commenced", the statement added.
Comments

The Georgetown District of the People's National Congress Reform (PNCR) today called for tougher action by the Ministry of Public Security and the Judiciary against crime in the wake of the murder of two elderly women.

Moruga/Tableland MP Dr Lovell Francis chats with two of his constituents whose yard was flooded following heavy overnight rains into yesterday.

India-born South African businessmen brothers, Atul, Rajesh and Ajay Rajesh Gupta. The Gupta family, one of South Africa's wealthiest, has been accused of wielding undue influence behind the scenes.

Although government's advisor on oil and gas, Jan Mangal, has argued that competitive bidding should be employed in the award of future oil exploration leases, Minister of Foreign Affairs Carl Greenidge says such an approach may not benefit Guyana's interests in the long term.

Police investigators will be focusing on the alleged sexual abuse of a 15-year-old boy committed by a city constabulary officer two months ago and not on the failure of the Mayor of City Council (M&CC) of Georgetown to report the case in a timely manner, 'A' Division Commander Marlon Chapman said yesterday.