The Guyana Defence Force (GDF) Thursday hosted eminent Guyanese novelist E. R. Braithwaithe, who wrote "To Sir With Love," at a special luncheon which was held in his honour at the Officers Mess, at Base Camp Ayanganna, Thomas Lands, Georgetown.
A press release from the army said that GDF Chief of Staff Commodore Best extended a warm welcome to Braithwaithe and his companion Ginnette Ast on behalf the Officer Corps and the ranks of the GDF.
Commodore Best also presented Braithwaite with a token of appreciation in honour of his achievements.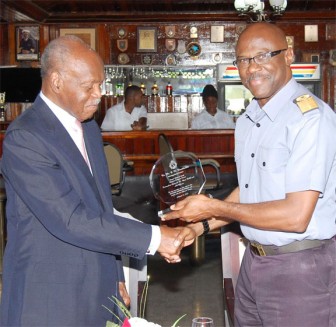 Meanwhile, Braithwaite expressed thanks on behalf of himself and his companion saying that it was equally an honour for him to have been hosted by the GDF.
Braithwaithe is in Guyana as a Guest of Honour of the Inter-Guyana Cultural Festival which is being hosted this week, the release added.
Comments

The Alliance For Change (AFC) this evening said that President David Granger's appointment of a chairman of the Guyana Elections Commission "has averted a looming constitutional crisis".

The PSC Secretariat on Waterloo Street. The Private Sector Commission (PSC) today said that the President's decision to unilaterally appoint a Chairman of GECOM poses a clear threat to democracy.

Zimbabwean President Robert Mugabe and his wife Grace attend a meeting of his ruling ZANU PF party's youth league in Harare, Zimbabwe, October 7, 2017.

Vladimir Inuma, a deputy leader of an association of the 92 families who vow to stay put in the Cantagallo slum, poses for a portrait in downtown Lima, Peru, September 9, 2017.

President David Granger yesterday unilaterally chose retired justice James Patterson, 84, to be Chairman of GECOM, rejecting a third list that had been submitted by Opposition Leader Bharrat Jagdeo and plunging the country into its worst political crisis since APNU+AFC came to power in 2015.