The Guyana Defence Force (GDF) Thursday hosted eminent Guyanese novelist E. R. Braithwaithe, who wrote "To Sir With Love," at a special luncheon which was held in his honour at the Officers Mess, at Base Camp Ayanganna, Thomas Lands, Georgetown.
A press release from the army said that GDF Chief of Staff Commodore Best extended a warm welcome to Braithwaithe and his companion Ginnette Ast on behalf the Officer Corps and the ranks of the GDF.
Commodore Best also presented Braithwaite with a token of appreciation in honour of his achievements.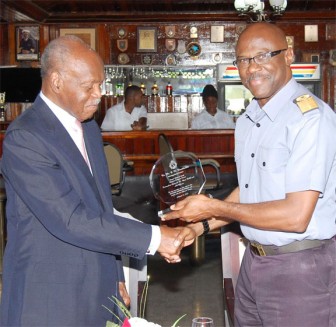 Meanwhile, Braithwaite expressed thanks on behalf of himself and his companion saying that it was equally an honour for him to have been hosted by the GDF.
Braithwaithe is in Guyana as a Guest of Honour of the Inter-Guyana Cultural Festival which is being hosted this week, the release added.
Comments

Several candidates recorded outstanding performances at this year's Caribbean Advanced Proficiency Examination (CAPE).

 Geometric improvements will be carried out on the East Coast Railway Embankment Road come September for smoother traffic flow.
Swift action by the Law Enforcement and Investigation Division (LEID) of the Guyana Revenue Authority (GRA) aided in the removal of a large quantity of seized foreign chicken from two separate cold storage facilities in the Berbice area after it was discovered that the commodities were unlawfully being disposed of, the GRA said today.

Farha Faiz, a lawyer, speaks with the media after a verdict for the controversial Muslim quick divorce law outside the Supreme Court in New Delhi, India August 22, 2017.  

Defeat Tallawahs by 37 runs Chris Gayle, playing in his 50th CPL match, produced his 63rd T20 fifty as St Kitts & Nevis Patriots cruised past Jamaica Tallawahs by 37 runs to guarantee a place in the playoffs for the first time in their three-year history.