The Guyana Defence Force (GDF) Thursday hosted eminent Guyanese novelist E. R. Braithwaithe, who wrote "To Sir With Love," at a special luncheon which was held in his honour at the Officers Mess, at Base Camp Ayanganna, Thomas Lands, Georgetown.
A press release from the army said that GDF Chief of Staff Commodore Best extended a warm welcome to Braithwaithe and his companion Ginnette Ast on behalf the Officer Corps and the ranks of the GDF.
Commodore Best also presented Braithwaite with a token of appreciation in honour of his achievements.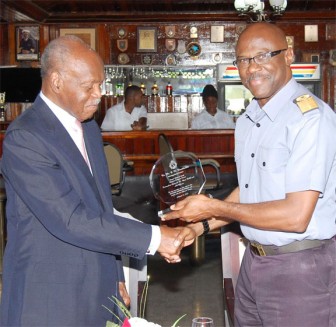 Meanwhile, Braithwaite expressed thanks on behalf of himself and his companion saying that it was equally an honour for him to have been hosted by the GDF.
Braithwaithe is in Guyana as a Guest of Honour of the Inter-Guyana Cultural Festival which is being hosted this week, the release added.
Comments

President David Granger this morning said that while he does not believe that the placing of the US$18M ExxonMobil signing bonus into a Bank of Guyana (BoG) account instead of the Consolidated Fund violates any laws, if advised by his legal team that the act was unlawful he will correct it.

As investigators continue to pay more attention to robbery under arms involving the theft of motor cars, their efforts are being rewarded, the police said today.


(Trinidad Guardian) Three days after PC Richard Babwah was killed during a shootout with bandits, another officer was shot under similar circumstances in Marabella.

Admitting that it was he who advised President David Granger to not disclose the ExxonMobil US$18M signature bonus, Minister of Foreign Affairs, Carl Greenidge  yesterday said that he thought then and still believes that publicising of the deal holds serious implications for Guyana pertaining to the border controversy with Venezuela.