The Guyana Defence Force (GDF) Thursday hosted eminent Guyanese novelist E. R. Braithwaithe, who wrote "To Sir With Love," at a special luncheon which was held in his honour at the Officers Mess, at Base Camp Ayanganna, Thomas Lands, Georgetown.
A press release from the army said that GDF Chief of Staff Commodore Best extended a warm welcome to Braithwaithe and his companion Ginnette Ast on behalf the Officer Corps and the ranks of the GDF.
Commodore Best also presented Braithwaite with a token of appreciation in honour of his achievements.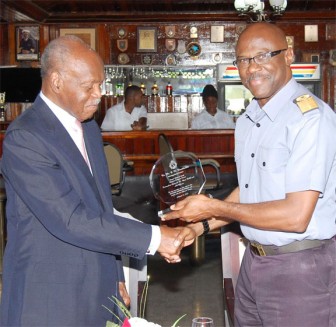 Meanwhile, Braithwaite expressed thanks on behalf of himself and his companion saying that it was equally an honour for him to have been hosted by the GDF.
Braithwaithe is in Guyana as a Guest of Honour of the Inter-Guyana Cultural Festival which is being hosted this week, the release added.
Comments

(Trinidad Guardian) When everyone felt that the case was closed on the kidnap and murder of United States citizen Balram "Balo" Maharaj, comes news that new motions have been filed in the Federal Court in Washington DC, which could see a new trial for the seven convicted Trinidadians.

HARARE,  (Reuters) – President Robert Mugabe was dismissed as leader of Zimbabwe's ruling ZANU-PF party today in a move to force a peaceful end to his 37 years in power following a de facto military coup.

Former Attorney General Anil Nandlall says that the Attorney General's Chambers' retention of six attorneys to prosecute a number of high profile cases is unconstitutional and he is warning that the right to a fair trial will be compromised by a politically-tainted process.
Guyana's total public debt increased from $317.7 billion to $330.6 billion in 2016 but the total debt as a percentage of Gross Domestic Product (GDP) declined to 46.4% from 48.6% at the end of 2015 due to a nominal increase in the GDP.

Family, friends and well-wishers turned out in their numbers to say their final goodbyes to murdered school teacher Kescia Branche, who was laid to rest yesterday afternoon.