Prime Minister Samuel Hinds said late Amerindian rights advocate Stephen Campbell's life illustrated how to overcome challenges and utilise opportunities, at an evening of reflection hosted on Tuesday at Umana Yana.
The event was hosted by the Ministry of Amerindian Affairs under the theme 'Embracing our Identity, Celebrating our Culture'.
According to a Government Information Agency press report the prime minister referred to Campbell as "a good role model, not only for Amerindians but, all Guyanese making and earning a living, and utilising opportunities accessible to us." Hinds also said he considered himself to be one of the beneficiaries of Campbell's work.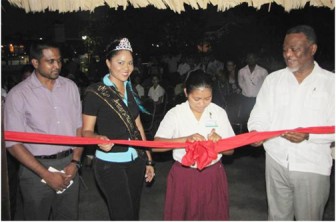 In his address Permanent Secretary at the ministry Nigel Dharamlall said Campbell was knowledgeable about nationalism, agriculture, skills training, land titling and access to telecommunication in the Amerindian villages. One of the greatest contributions he made was the move towards crafting the Amerindian Act, and developing better health facilities and a postal service in the North West District. Dharamlall said the public should cherish and emulate Campbell.
The programme included dances by the Mainstay Cultural group and a video presentation by Campbell's son David. Campbell was the first Guyanese of Amerindian descent to enter the Legislative Council of then British Guiana. His political career was started during his tenure at the Waini sawmill, where Amerindians and other persons from other races were seeking representation. Campbell moved into his formal political career in 1956, when he was 60 years old.
Campbell was born in the Moruca sub-district of Region One to parents who both died when he was at a tender age, leaving him in the care of his grandmother. He attended the Santa Rosa Mission School. In 1928, Campbell got married at the age of 31, and moved to various locations in regions One, Two, Seven, and Nine where he was involved in teaching, road construction, gold mining, rubber tapping, fishing, and tree spotting.
When Universal Adult Suffrage was proposed in 1951, Amerindians were able to participate in general elections and from then on he became interested in politics. Amerindians were first able to exercise their franchise on April 27, 1956. Campbell died on May 12, 1966, two weeks before British Guiana gained independence from Britain.
Comments

The legal team for former New Building Society (NBS) manager, Maurice Arjoon, who was wrongfully dismissed, have levied on the bank's assets in a bid to recoup the $59,033,000 pension owed to him by the financial institution.
An alleged inebriated farmer of 54 Strath Campbell Village, Mahaicony, ECD, died at about 3 pm  yesterday at Chance Village, Mahaicony, after a vehicle he was reportedly not given permission to drive, crashed into a utility pole.

MELBOURNE,  (Reuters) – Rafa Nadal's Australian Open quarter-final curse struck again on Tuesday, an injury forcing the top seed to retire in the fifth set against Croatia's Marin Cilic.

Several hundred more sugar workers are expected to be laid off from the Skeldon, Rose Hall, and East Demerara estates by next month and the Guyana Agricultural and General Workers Union (GAWU) yesterday urged that the decision be reviewed.

The commencement order establishing the Telecommunications Agency was signed last Friday, in anticipation of the liberalisation of the telecoms sector, Minister of Public Tele-communications Cathy Hughes announced yesterday.