Prime Minister Samuel Hinds said late Amerindian rights advocate Stephen Campbell's life illustrated how to overcome challenges and utilise opportunities, at an evening of reflection hosted on Tuesday at Umana Yana.
The event was hosted by the Ministry of Amerindian Affairs under the theme 'Embracing our Identity, Celebrating our Culture'.
According to a Government Information Agency press report the prime minister referred to Campbell as "a good role model, not only for Amerindians but, all Guyanese making and earning a living, and utilising opportunities accessible to us." Hinds also said he considered himself to be one of the beneficiaries of Campbell's work.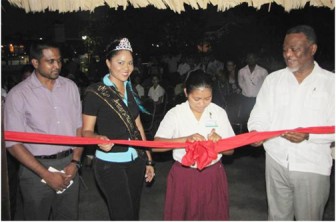 In his address Permanent Secretary at the ministry Nigel Dharamlall said Campbell was knowledgeable about nationalism, agriculture, skills training, land titling and access to telecommunication in the Amerindian villages. One of the greatest contributions he made was the move towards crafting the Amerindian Act, and developing better health facilities and a postal service in the North West District. Dharamlall said the public should cherish and emulate Campbell.
The programme included dances by the Mainstay Cultural group and a video presentation by Campbell's son David. Campbell was the first Guyanese of Amerindian descent to enter the Legislative Council of then British Guiana. His political career was started during his tenure at the Waini sawmill, where Amerindians and other persons from other races were seeking representation. Campbell moved into his formal political career in 1956, when he was 60 years old.
Campbell was born in the Moruca sub-district of Region One to parents who both died when he was at a tender age, leaving him in the care of his grandmother. He attended the Santa Rosa Mission School. In 1928, Campbell got married at the age of 31, and moved to various locations in regions One, Two, Seven, and Nine where he was involved in teaching, road construction, gold mining, rubber tapping, fishing, and tree spotting.
When Universal Adult Suffrage was proposed in 1951, Amerindians were able to participate in general elections and from then on he became interested in politics. Amerindians were first able to exercise their franchise on April 27, 1956. Campbell died on May 12, 1966, two weeks before British Guiana gained independence from Britain.
Comments

(Trinidad Guardian) When everyone felt that the case was closed on the kidnap and murder of United States citizen Balram "Balo" Maharaj, comes news that new motions have been filed in the Federal Court in Washington DC, which could see a new trial for the seven convicted Trinidadians.

HARARE,  (Reuters) – President Robert Mugabe was dismissed as leader of Zimbabwe's ruling ZANU-PF party today in a move to force a peaceful end to his 37 years in power following a de facto military coup.

Former Attorney General Anil Nandlall says that the Attorney General's Chambers' retention of six attorneys to prosecute a number of high profile cases is unconstitutional and he is warning that the right to a fair trial will be compromised by a politically-tainted process.
Guyana's total public debt increased from $317.7 billion to $330.6 billion in 2016 but the total debt as a percentage of Gross Domestic Product (GDP) declined to 46.4% from 48.6% at the end of 2015 due to a nominal increase in the GDP.

Family, friends and well-wishers turned out in their numbers to say their final goodbyes to murdered school teacher Kescia Branche, who was laid to rest yesterday afternoon.