When the country's largest trade and investment exhibition, GuyExpo, opened last evening it was not on the same high note as last year, but exhibitors were highly optimistic that business this year will surpass last year's given that on opening night there is never a large crowd.
"We are not worried about attendance because the night is still very young and this is first night. First night there is never plenty people and many booths are now fixing up. Check us back Saturday night and Sunday night you will be shocked," Claire Bisnaught, an exhibitor said last evening.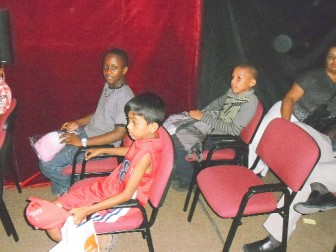 As Stabroek News toured Expo City many of the faces from last year were back but there were also additions. Many seem to have diversified as focusing on natural and organic health and food products is the 'in thing' this year.
In the Natural Resources Centre one could see on display therapeutic body soaps made from local herbs, detoxifying concoctions, a vast array of local wines, locally made clothing and accessories; curtains for the home made from clay among other things.
One of the most popular booths was that of the National Agricultural Research and Extension Institute with its eye-catching display of vegetables grown locally. Nearly all of patrons who traversed that aisle stopped to find out how they could grow the veggies on display and representatives took the time to explain. "We are promoting new technology in farming, diversification of crops as we are educating both commercial and home gardeners about new ways of growing things.
The semi greenhouse is one such type and we are also showing the types of crops that can be grown right in your backyard and the new varieties of crops," CEO Dr Oudho Homenauth said.
"We want Guyanese to know that broccoli, Brussels sprouts, purple cabbage and other predominantly imported foods can be grown right here reducing our imports in these commodities while promoting healthy living," he added.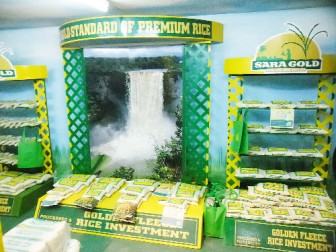 The organization however did not have on sale seedlings or seeds as patrons expected but were directed to offices on the East and West Coast Demerara.
In the same Natural Resources Centre were the Pomeroon Women's Association; Golden Fleece Rice for which a new brand 'Sara Gold' was named after the country's top CSEC performer Sara Hack; Jet's Juices and last year's best new product Pandama Winery to name a few
Over at the Tourism Village airline Ezee Jet had a long line of persons waiting to sign up to see if later in the evening they would be one of five persons to win trips either to the United States or Canada. Hotels such as the Princess and Herdmanston Lodge shared material as they tried convincing patrons why their entity was the best.
It is in this section of the Expo that you will find nested away in the eastern corner the Carnegie  School of Home Economics which had on display, immaculately done, pieces of soft furnishings as well as do it yourself interior decorations.
The main auditorium of the Expo was not yet complete as several businesses hustled with nailing, drilling and making fixes to their booths in anticipation of the weekend peak period. In this centre there will be Melsha's Furniture Store, ND&S Furniture Store, and Guy America Furniture Store among furniture entities.
There was also villages such as Future City which gave insight into what  a 2025 Guyana would look like and a Youth Village, but on opening night the village and the city were sparsely populated.
Comments

President David Granger (left) and Prime Minister Moses Nagamootoo unveiling the plaque today to officially commission 'Radio Bartica' as Chairman of the Region, Gordon Bradford and Sita Nagamootoo look on.

Prime Minister Moses Nagamootoo yesterday called on the Opposition to put to an end their dilatory tactic because it violates the standing order of the National Assembly.                    

(Trinidad Guardian) Stop embarrassing the Chinese government and people! That was Prime Minister Dr Keith Rowley's rebuke to the Opposition in Parliament yesterday, after being pressed on the change of plans for his China trip.

Despite the AFC's claim that it was not involved in the selection of a Guyana Elections Commission (Gecom) Chairman, its two senior leaders, Khemraj Ramjattan and Raphael Trotman, had advised President David Granger that he could utilise the constitutional proviso and make a unilateral appointment.

The National Assembly last evening approved over $8 billion in total budgetary allocations for 16 constitutional agencies even as the government's failure to properly account for cuts to requested expenditure drew criticism.