The Ministry of Foreign Affairs yesterday announced that the government has given its approval for Merlin Udho to be appointed as ambassador of Guyana to Brazil.
She will succeed Ambassador Kellawan Lall.
According to a press release, Udho served as Ambassador of Guyana to the Republic of Suriname from November 2009 to February 2012. Previously, she worked as a Consultant in the UN system serving in the Ukraine, Bangladesh and Eastern Europe and as the Coordinator of the National Competitiveness Programme.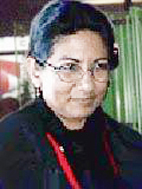 In respect to her credentials, the release stated that Udho holds a Masters of Law degree with specialty in International Law and a post graduate Diploma in Development Studies. She had previously been programme co-ordinator for the government's national competitiveness strategy.
In March last year, Head of the Presidential Secretariat Dr Roger Luncheon told media operatives that Lall had accepted an offer made by the President to take up the diplomatic posting in Brazil and that PPP/C MP Norman Whittaker had been identified to head the Local Government ministry.
Months later in July, the Guyana government received the Agrément from Brazil for Lall to be appointed to the post. After it was provided there were suggestions that Lall's stint in Brasilia would be brief.
Lall had replaced PPP stalwart Harry Narine Nawbatt, who left to serve as Guyana's new High Commissioner to Canada, having served in Brazil since November 2008.
Lall had been a hugely controversial choice as ambassador to Brasilia. Many had argued that his behaviour here as a minister had been reprehensible and not worthy of representing Guyana in a foreign capital. Lall had had highly publicised incidents in a bar and in an accident that raised questions about his conduct.
Udho's appointment means that Lall has functioned for just over a year in Brasilia.
There was no indication in the Ministry's release as to whether Lall was being reassigned. He had previously functioned as the Minister of Local Government.
Comments

The Customs Anti-Narcotic Unit (CANU) today said that Tiffini Collison, 26-years-old of F 21 Samaan Street Guyhoc Park, Georgetown posted four hammocks suspected to have been saturated with cocaine to an address in the USA through an International Courier Service in Georgetown sometime last week.

President David Granger (centre) today met  President of Chevron Africa and Latin America Exploration and Production Company,  Clay Neff (third from right).

Anthony Weiner   NEW YORK,  (Reuters) – Former U.S. Congressman Anthony Weiner was sentenced to 21 months in prison today for sending sexually explicit messages to a 15-year-old girl, setting off a scandal that played a role in the 2016 U.S.

A family's preparation for a memorial service ended tragically early yesterday morning when bandits stormed into their home in  East La Penitence and discharged several rounds, fatally wounding a man and injuring two of his brothers.

(Trinidad Express) The Trinidad and Tobago Defence Force and Coast Guard have been at the helm of a dramatic rescue of a family of four, including two small children, who lived in a car for four days after their home in Dominica was destroyed last Monday by Hurricane Maria.