The Ministry of Foreign Affairs yesterday announced that the government has given its approval for Merlin Udho to be appointed as ambassador of Guyana to Brazil.
She will succeed Ambassador Kellawan Lall.
According to a press release, Udho served as Ambassador of Guyana to the Republic of Suriname from November 2009 to February 2012. Previously, she worked as a Consultant in the UN system serving in the Ukraine, Bangladesh and Eastern Europe and as the Coordinator of the National Competitiveness Programme.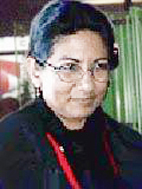 In respect to her credentials, the release stated that Udho holds a Masters of Law degree with specialty in International Law and a post graduate Diploma in Development Studies. She had previously been programme co-ordinator for the government's national competitiveness strategy.
In March last year, Head of the Presidential Secretariat Dr Roger Luncheon told media operatives that Lall had accepted an offer made by the President to take up the diplomatic posting in Brazil and that PPP/C MP Norman Whittaker had been identified to head the Local Government ministry.
Months later in July, the Guyana government received the Agrément from Brazil for Lall to be appointed to the post. After it was provided there were suggestions that Lall's stint in Brasilia would be brief.
Lall had replaced PPP stalwart Harry Narine Nawbatt, who left to serve as Guyana's new High Commissioner to Canada, having served in Brazil since November 2008.
Lall had been a hugely controversial choice as ambassador to Brasilia. Many had argued that his behaviour here as a minister had been reprehensible and not worthy of representing Guyana in a foreign capital. Lall had had highly publicised incidents in a bar and in an accident that raised questions about his conduct.
Udho's appointment means that Lall has functioned for just over a year in Brasilia.
There was no indication in the Ministry's release as to whether Lall was being reassigned. He had previously functioned as the Minister of Local Government.
Comments

Several candidates recorded outstanding performances at this year's Caribbean Advanced Proficiency Examination (CAPE).

 Geometric improvements will be carried out on the East Coast Railway Embankment Road come September for smoother traffic flow.
Swift action by the Law Enforcement and Investigation Division (LEID) of the Guyana Revenue Authority (GRA) aided in the removal of a large quantity of seized foreign chicken from two separate cold storage facilities in the Berbice area after it was discovered that the commodities were unlawfully being disposed of, the GRA said today.

Farha Faiz, a lawyer, speaks with the media after a verdict for the controversial Muslim quick divorce law outside the Supreme Court in New Delhi, India August 22, 2017.  

Defeat Tallawahs by 37 runs Chris Gayle, playing in his 50th CPL match, produced his 63rd T20 fifty as St Kitts & Nevis Patriots cruised past Jamaica Tallawahs by 37 runs to guarantee a place in the playoffs for the first time in their three-year history.