The Ministry of Foreign Affairs yesterday announced that the government has given its approval for Merlin Udho to be appointed as ambassador of Guyana to Brazil.
She will succeed Ambassador Kellawan Lall.
According to a press release, Udho served as Ambassador of Guyana to the Republic of Suriname from November 2009 to February 2012. Previously, she worked as a Consultant in the UN system serving in the Ukraine, Bangladesh and Eastern Europe and as the Coordinator of the National Competitiveness Programme.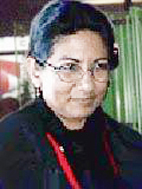 In respect to her credentials, the release stated that Udho holds a Masters of Law degree with specialty in International Law and a post graduate Diploma in Development Studies. She had previously been programme co-ordinator for the government's national competitiveness strategy.
In March last year, Head of the Presidential Secretariat Dr Roger Luncheon told media operatives that Lall had accepted an offer made by the President to take up the diplomatic posting in Brazil and that PPP/C MP Norman Whittaker had been identified to head the Local Government ministry.
Months later in July, the Guyana government received the Agrément from Brazil for Lall to be appointed to the post. After it was provided there were suggestions that Lall's stint in Brasilia would be brief.
Lall had replaced PPP stalwart Harry Narine Nawbatt, who left to serve as Guyana's new High Commissioner to Canada, having served in Brazil since November 2008.
Lall had been a hugely controversial choice as ambassador to Brasilia. Many had argued that his behaviour here as a minister had been reprehensible and not worthy of representing Guyana in a foreign capital. Lall had had highly publicised incidents in a bar and in an accident that raised questions about his conduct.
Udho's appointment means that Lall has functioned for just over a year in Brasilia.
There was no indication in the Ministry's release as to whether Lall was being reassigned. He had previously functioned as the Minister of Local Government.
Comments

(Trinidad Guardian) When everyone felt that the case was closed on the kidnap and murder of United States citizen Balram "Balo" Maharaj, comes news that new motions have been filed in the Federal Court in Washington DC, which could see a new trial for the seven convicted Trinidadians.

HARARE,  (Reuters) – President Robert Mugabe was dismissed as leader of Zimbabwe's ruling ZANU-PF party today in a move to force a peaceful end to his 37 years in power following a de facto military coup.

Former Attorney General Anil Nandlall says that the Attorney General's Chambers' retention of six attorneys to prosecute a number of high profile cases is unconstitutional and he is warning that the right to a fair trial will be compromised by a politically-tainted process.
Guyana's total public debt increased from $317.7 billion to $330.6 billion in 2016 but the total debt as a percentage of Gross Domestic Product (GDP) declined to 46.4% from 48.6% at the end of 2015 due to a nominal increase in the GDP.

Family, friends and well-wishers turned out in their numbers to say their final goodbyes to murdered school teacher Kescia Branche, who was laid to rest yesterday afternoon.