The Ministry of Foreign Affairs yesterday announced that the government has given its approval for Merlin Udho to be appointed as ambassador of Guyana to Brazil.
She will succeed Ambassador Kellawan Lall.
According to a press release, Udho served as Ambassador of Guyana to the Republic of Suriname from November 2009 to February 2012. Previously, she worked as a Consultant in the UN system serving in the Ukraine, Bangladesh and Eastern Europe and as the Coordinator of the National Competitiveness Programme.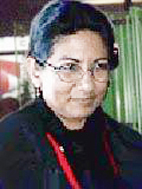 In respect to her credentials, the release stated that Udho holds a Masters of Law degree with specialty in International Law and a post graduate Diploma in Development Studies. She had previously been programme co-ordinator for the government's national competitiveness strategy.
In March last year, Head of the Presidential Secretariat Dr Roger Luncheon told media operatives that Lall had accepted an offer made by the President to take up the diplomatic posting in Brazil and that PPP/C MP Norman Whittaker had been identified to head the Local Government ministry.
Months later in July, the Guyana government received the Agrément from Brazil for Lall to be appointed to the post. After it was provided there were suggestions that Lall's stint in Brasilia would be brief.
Lall had replaced PPP stalwart Harry Narine Nawbatt, who left to serve as Guyana's new High Commissioner to Canada, having served in Brazil since November 2008.
Lall had been a hugely controversial choice as ambassador to Brasilia. Many had argued that his behaviour here as a minister had been reprehensible and not worthy of representing Guyana in a foreign capital. Lall had had highly publicised incidents in a bar and in an accident that raised questions about his conduct.
Udho's appointment means that Lall has functioned for just over a year in Brasilia.
There was no indication in the Ministry's release as to whether Lall was being reassigned. He had previously functioned as the Minister of Local Government.
Comments

The legal team for former New Building Society (NBS) manager, Maurice Arjoon, who was wrongfully dismissed, have levied on the bank's assets in a bid to recoup the $59,033,000 pension owed to him by the financial institution.
An alleged inebriated farmer of 54 Strath Campbell Village, Mahaicony, ECD, died at about 3 pm  yesterday at Chance Village, Mahaicony, after a vehicle he was reportedly not given permission to drive, crashed into a utility pole.

MELBOURNE,  (Reuters) – Rafa Nadal's Australian Open quarter-final curse struck again on Tuesday, an injury forcing the top seed to retire in the fifth set against Croatia's Marin Cilic.

Several hundred more sugar workers are expected to be laid off from the Skeldon, Rose Hall, and East Demerara estates by next month and the Guyana Agricultural and General Workers Union (GAWU) yesterday urged that the decision be reviewed.

The commencement order establishing the Telecommunications Agency was signed last Friday, in anticipation of the liberalisation of the telecoms sector, Minister of Public Tele-communications Cathy Hughes announced yesterday.