Minister of Finance of Trinidad and Tobago Larry Howai says that Trinidad's Ministry of Food Production is moving to establish a Food Security Facility with the Government of Guyana.
He was delivering the 2013 Trinidad and Tobago national budget in that country's Parliament on Monday. Howai said that this facility is necessary because land is becoming less and less available in Trinidad and Tobago.
"The Facility would commit both Governments to expanding agricultural production in Guyana through the establishment of commercial relationships for funding the establishment of several large agricultural estates in Guyana," he said.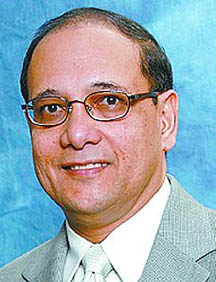 Calling agriculture one of the areas of focus of the budget, Howai said that Trinidad proposes to reduce its food import bill by 50 percent or just over TT$2.0 billion per year by 2015.
"Achieving food security is our top priority. We all recall the global food price shocks in the period 2006 – 2010 when domestic inflation reached an annual average level of 9.1 per cent compared with an annual average of 4.8 per cent in the period 2001-2005. The increased levels of inflation stemming from our increasingly imported food requirements have had a harmful impact on our citizens, particularly our most vulnerable, as they sought to manage the business of their every-day lives." The Minister said.
That Government also proposed to temporarily remove Value Added Tax would from all food items except luxury items and alcoholic beverages.
Stabroek News yesterday contacted Permanent Secretary of the Ministry of Agriculture in Guyana, George Jervis who said that while there have been several memoranda of understanding between Guyana and Trinidad, he does not have the details of the initiative to which Minister Howai referred.
It was hoped that under the Jagdeo Initiative countries like Trinidad would consider investing in farms in Guyana to meet their food needs. However despite initial exchanges around 2008 between the two, Trinidad gave the impression that it was not interested and that it was forging ahead with its own farms.
At that time, Trinidad was contemplating about 15 mega farms to be located on lands in Trinidad which would have been made available through lease and joint venture arrangement with private investors. The objective of those farms was to impact the domestic supply and price levels of certain fresh produce by establishing and operating food crop and commercial vegetable production enterprise and to manage the farms as models for the practice of modern agriculture.
At the time it was envisioned that the farms would have had strong links to processing or marketing channels and would have provided feedstock for the agri-business sector.
It was envisaged that in the partnership the private sector would provide on-farm infrastructural development, including irrigation and other facilities. Further, the investors would have been the ones responsible for financing the projects, sourcing their own markets and developing and implementing their own marketing strategy.
However, it is widely acknowledged that the Jagdeo Initiative – meant to reduce the Caribbean's US$3 billion a year food import bill and guarantee the region's food security – has not taken off as was envisaged.
Nigel Durrant, Caricom's Agriculture Trade Specialist said recently that progress on the Jagdeo Initiative on agriculture for the Caribbean has been slow and that there is a tendency to produce large documents with little action.
Durrant said Caricom "floated the idea" of a regional agriculture development bank but it has not borne fruit. He said non-tariff barriers such as sanitary and phyto-sanitary measures are bugbears to agricultural trade and inimical to the Initiative.
Local critics have argued that while Trinidad and other Caribbean countries are moving aggressively to cut their food import bills Guyana hasn't.
Comments

President David Granger this morning said that while he does not believe that the placing of the US$18M ExxonMobil signing bonus into a Bank of Guyana (BoG) account instead of the Consolidated Fund violates any laws, if advised by his legal team that the act was unlawful he will correct it.

As investigators continue to pay more attention to robbery under arms involving the theft of motor cars, their efforts are being rewarded, the police said today.


(Trinidad Guardian) Three days after PC Richard Babwah was killed during a shootout with bandits, another officer was shot under similar circumstances in Marabella.

Admitting that it was he who advised President David Granger to not disclose the ExxonMobil US$18M signature bonus, Minister of Foreign Affairs, Carl Greenidge  yesterday said that he thought then and still believes that publicising of the deal holds serious implications for Guyana pertaining to the border controversy with Venezuela.