All the calls from a cellular phone assigned to Home Affairs Minister Clement Rohee that were made to a number assigned to E&F Division commander Clifton Hicken on July 18, the day of the Linden shootings were made after 9pm and not between 4pm and 7pm as was reported earlier.
The phone records were those that belonged to the Guyana Telephone & Telegraph (GT&T). When attorney-at-law Nigel Hughes, who represents the AFC and the interest of the families of the three dead men, had requested the phone records he had asked for those between 4pm and 7pm.
When Hughes led GT&T's Security Manager Edgar Blackman in evidence at this morning's session of the Commission of Inquiry (COI) it was first believed that the calls made from the number assigned to Rohee to Hicken's number were between those hours.
However, it took attorney-at-law Peter Hugh, who is representing the interest of the Guyana Police Force, to later point out that all the listed calls were made after 9 pm which Blackman confirmed.
When the COI began last week, Commissioner of Police Leroy Brumell had said under oath that telephone number 623 9908 belonged to Rohee while 661 9490 was Hicken's number.
Also testifying this morning was Chief Executive Officer of Digicel Gregory Deane. Deane and Blackman testified following subpoenas by the commission.
Deane testified that he was asked to provide records for 661 9490. He said he did not have information on who the number is registered to because he was not asked to provide that. This number was the one that Brumell said belonged to Hickens.
While being questioned by Hughes, Deane said that he was asked for incoming and outgoing calls between 5:47 pm and 6:48 pm on July 18 for that number.
Hughes said that he would be tendering a copy of a printout of the records and will go through them at a later date since many numbers are listed.
On July 18, three Lindeners were shot dead by police during protest action over electricity tariffs at around 6:30 pm.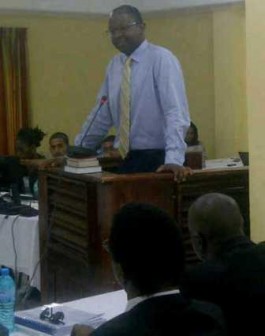 Comments

A jet plane flies by the total solar eclipse in Guernsey, Wyoming U.S.

Superstar opener Chris Gayle … returns to the West Indies side for the first time in over two years.

The Church Street hotel and casino Hotelier Clifton Bacchus today filed a $2 billion lawsuit against the state-owned Guyana Chronicle newspaper following its publication of two recent articles which he has described as "highly defamatory." Guyana National Newspapers Limited, which is the publisher of the Guyana Chronicle, and the editor of the Guyana Chronicle were listed as the defendants in the suit, which was filed by a team of lawyers headed by former Attorney-General Anil Nandlall.

LONDON, (Reuters) – The gradual decline of West Indian cricket is hardly a new phenomenon but the latest capitulation of a once-dominant test match power has brought genuine expressions of sadness throughout the sport.

Eleven residents of the juvenile correctional centre at Onderneeming on the Essequibo Coast were apprehended between yesterday and this morning.