The Guyana Water Incorporated (GWI) now has a $72 Million HI-VAC Truck Mounted sewerage cleaner purchased by the Government of Guyana through the Inter-American Development Bank.
According to Chief Executive, GWI, Shaik Baksh the investment is meant to alleviate instances of sewage overflows, a release from GWI said.
"This investment forms a critical part of the Georgetown Sewerage Rehabilitation Programme," stated the Chief Executive, "it will assist with the servicing and maintenance of the existing infrastructure.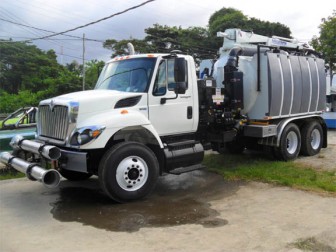 The tanker will be operated by GWI.  GWI's Director of Procurement, Aubrey Roberts said that  "the tanker is equipped with a vacuum pump and jetter to remove blockages which result in sewage overflows".
The GWI release said that Baksh warned that despite the company acquiring the new asset, customers must continue to desist from abusing the system.
"I am appealing to all users of the sewerage system," stated Baksh, "no obstacles must be dumped into the system; our sanitation team continues to uncover clothing items, cement blocks, old vehicle parts and numerous unwanted objects in the system."
Comments

Michael Bhopaul, 16, doesn't know if he is this year's best performer at    the Caribbean Secondary Examination Certificate (CSEC) Examinations, but with preliminary results showing that he has obtained passes in 25 subjects, he will be hard to top.

Inmates at the Lusignan Prison turned over 33 improvised weapons yesterday morning to prison authorities, who say that they also apologised to the prison staff for the unrest at the facility on Friday night.

Well known Berbice attorney Chandra Sohan was arrested on Friday after he allegedly struck a pedestrian in a hit and run accident along the Williamsburg Public Road.

For a little more than an hour yesterday, the streets outside the Mackenzie Market rang with the voices of dozens of Linden residents who turned out to support a march against homosexuality.
The woman killed during the violent storm in Jawalla, Region Seven on Friday, has been identified as a mother of two, who was seven months pregnant.