Ricardo Ignatius Rodrigues, a one-time associate of convicted drug kingpin Roger Khan, is one of two men wanted by police for questioning about the arms cache, including AK-47 assault rifles and grenades, found last week at Lethem.
Wanted bulletins were issued yesterday for both Rodrigues, called "Fatman," and Clive Lloyd King, called "Bora," who are said to be cousins.
King, a contractor, has previously been described as the main suspect in the case. His wife and an employee were both arrested by police after the discovery of the weapons at Tabatinga last Monday. The worker, Benedict Thompson, 19, has since been charged with unlawful weapons possession, while the woman has been released.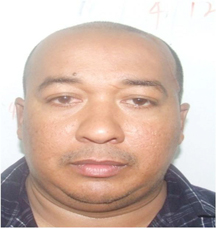 Although the wanted bulletins issued by the Guyana Police Force for Rodrigues and King yesterday only stated that they were wanted for questioning about "unlawful possession of arms and ammunition," Crime Chief Seelall Persaud had earlier told Stabroek News that bulletins were being issued for persons of interest in the Lethem case.
Rodrigues, 40, is of mixed ethnicity and his last known addresses have been given as Lot 24 Bel Air Gardens, Lot 19 Bel Voir Court, Bel Air Village, Lamaha Gardens and Mahdia (Gold Mining Concession).
King, 36, is said to be brown in complexion and his last known address was given as Tabatinga, North Lethem.
Meanwhile, Crime Chief Seelall Persaud yesterday disclosed that King's wife had been released.
A source close to the case told Stabroek News yesterday that there has been no sighting of King, but it is believed that he is hiding out in neighbouring Brazil. The source said that things have returned to normal in Lethem, which was on edge after the weapons were found.
In 2006, police had announced that Rodrigues was wanted for questioning along with Khan, Gerald Pereira and ex-policeman Paul Rodrigues. In the following year, Rodrigues was wanted again along with others.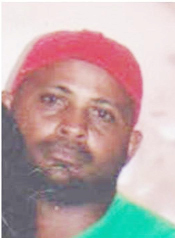 It is unclear whether he surrendered to police on either occasion. However, in late 2010, he was wanted again for questioning in the aftermath of a spate of killings. He surrendered and police released him on station bail after lawyers for him and others that surrendered challenged the police to show reason why they should remain in custody.
Khan, who was arrested in Suriname in 2006, was later taken to the US to face drug trafficking and witness tampering charges. He was charged with conspiring to import cocaine into the US over a five-year period, from January 2001 to March 2006, and the US government also said he was the leader of a cocaine trafficking organisation based in Georgetown that was able to import huge amounts of cocaine into Guyana, and then oversee exportation to the US and elsewhere. The US government also said Khan's enforcers committed violent acts and murders on his orders that were directly in furtherance of his drug trafficking conspiracy. A paramilitary squad was referred to as the "Phantom Squad," which a confidential US source said was responsible for "at least 200 extra-judicial killings" in Guyana between 2002 and 2006.
Prior to fleeing to Suriname after there was an attempt to arrest him, Khan himself placed newspaper advertisements in the Guyana Chronicle and the Kaieteur News stating that he had been involved in crime fighting in Guyana and had worked closely with local and US law enforcement officials.
Khan eventually made a deal with US prosecutors and he pleaded guilty and is now serving a 15-year sentence.
According to police, around 3 pm last Monday ranks raided a house at Tabatinga, and found 10 automatic rifles along with matching ammunition, two shrapnel hand grenades; one Icon VHF radio set; one Icon hand-held radio set; and one roll of camouflage material.
As a result of the weapons find, Thompson and King's wife were arrested and transported to the city along with the arms.
Last Thursday, Thompson was arraigned at the Georgetown Magistrates' Court on four charges of unlawful arms and ammunition possession, for which he was remanded to prison until December 4.
While the police are claiming that Thompson was found with a weapon and then led them to the location of others, his lawyer, Glenn Hanoman, denied this. The attorney suggested that the weapons could have been from those used in the 1969 Rupununi Uprising.
Anyone with information that may lead to the arrest of Rodrigues and King is asked to contact the police on telephone numbers 226-1333, 225-2722, 772-2087, 225-8196, 225-6411, 911 or the nearest police station. All information will be treated with strict confidence, police said.
Comments

(ICC) Antigua and Barbuda, Guyana and St Lucia were today announced by the International Cricket Council (ICC) as the venues for the ICC Women's World Twenty20 2018, which will be staged from 9-24 November.

The sugar union, GAWU today said that more sugar workers are to be made redundant.

(Trinidad Guardian) Education Minister Anthony Garcia says the University of Trinidad and Tobago (UTT) is of the view that the organisation is "overstaffed and to run the university efficiently it will mean they have to trim fat." But former Tertiary Education Minister Fazal Karim is warning that the decision to retrench 287 staff members, will "compromise the quality of teaching and learning and administration at the university," and may impact its accreditation with the Accreditation Council of Trinidad and Tobago (ACTT).

In preparation for Guyana's emerging oil and gas sector and the bustling business usually synonymous with the industry, the Pegasus Hotel is expected to undergo a huge expansion which includes office and residential rental spaces.

Police Commissioner Seelall Persaud is to resume his duties today after spending approximately six months on leave, Public Security Minister Khemraj Ramjattan yesterday confirmed to Stabroek News.