Paul Daby Snr for whom police issued a wanted bulletin on Tuesday turned himself in to  police yesterday in the company of his lawyer and remained in custody last night for questioning about two recent execution-styled killings.
The two killings are those of Ricardo Rodrigues and Marlon Osborne.
Rodrigues, a close associate of convicted drug kingpin Roger Khan, was shot dead by gunmen on October 15 in an attack at a restaurant at the Guyana Motor Racing and Sports Club, Thomas Lands. Three other persons were hit during the shooting, including Canadian national Jean Le Blanc, who police said later succumbed after complications from the gunshot wound he sustained.
Rodrigues' bodyguard, Osborne, 33, also known as 'Trini' and `Country' was riddled with bullets moments after he exited the yard of a friend he had visited in Queenstown last Wednesday.  Prior to his death, Osborne was questioned by police in connection with Rodrigues' murder. One of  Daby's attorneys told Stabroek News that he takes issue with the fact that no efforts were made to contact his client. He said that over the weekend police raided the man's 127 D'Aguiar Park, Houston residence.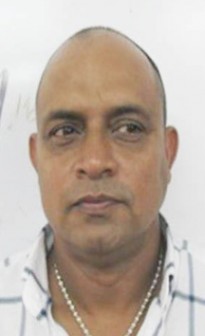 The attorney said that police were informed that Daby was out of the country and would be returning on Monday which he did.
The lawyer said that no attempts were made to detain Daby at immigration when he returned and nor did the police subsequently check to ascertain if the man was in the country but nonetheless issued the bulletin.
Comments

LONDON, (Reuters) – The gradual decline of West Indian cricket is hardly a new phenomenon but the latest capitulation of a once-dominant test match power has brought genuine expressions of sadness throughout the sport.

Eleven residents of the juvenile correctional centre at Onderneeming on the Essequibo Coast were apprehended between yesterday and this morning.

With growing pressure on the government over the overcrowding of jails, MP Michael Carrington is confident that the parliamentary bill in his name to ease penalties on marijuana use will gain the support of the governing APNU+AFC benches of which he is a member.
The National Toshaos Council (NTC) is to begin its conference today and high on the agenda will likely be ongoing concerns about the lands commission of inquiry (CoI) which the government has convened.
A Trinidad-based medical products company has secured four contracts worth $135.4m. According to the Ministry of the Presidency (MotP), Cabinet at its meeting on August 15,2017 noted the award of 16 multi-million-dollar contracts.