– airline says it has not shut down
Caribbean Airlines (CAL) has agreed to provide short term accommodation for passengers left stranded by the suspension of EZjet Air Services by the United States Department of Transportation (DOT) and the Guyana Civil Aviation Authority (GCAA), even as the beleaguered airline blames a litany of events for its failure to continue the service.
EZjet is also insisting that it has not been shutdown as reported in some sections of the media and that it will be back once the issues plaguing it are resolved. On Friday, Minister of Works Robeson Benn announced that the US Department of Transport had suspended the operations of EZjet and as a consequence, the GCAA did the same.
As the government seeks to mitigate the impact of the suspension of EZjet operations, President Donald Ramotar yesterday met several executives from CAL.
According to a statement from the Ministry of Tourism, the President noted that yesterday's discussion was the beginning of the process where the Government of Guyana will be strengthening its relationship with CAL, to work towards an arrangement that will serve to mitigate the impact on arrival figures at this time.
Also present at the meeting were Tourism Minister Irfaan Ali, Minister of Public Works Robeson Benn, and Director of Guyana Civil Aviation Authority (GCAA) Zulfikar Mohammed. Representing CAL were Chairman Rabindra Moonan, CEO Robert Corbie and other officials from the airline.
The meeting was held at State House.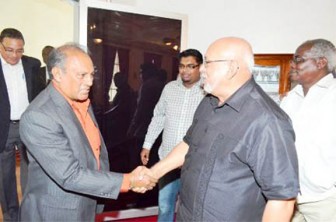 "We have been very concerned about what has happened and we are seeking to minimise the impact so we have approached Caribbean Airlines with whom we have had a long relationship they have responded very positively and will put on extra flights to accommodate the customers," President Ramotar said.
He said government will work with the regional carrier to strengthen ties that will lead to stronger regional integration.
The statement said chief among the issues addressed yesterday was the impact of the airline's suspension on the passengers who would have already made reservations with the airline and the effect on the airfare attached to travelling with Caribbean Airlines.
The statement said that as to the issue of pricing, CAL's Chairman assured the President that the airline was committed to keeping the fare structure of Caribbean Airlines, so that there will be no additional increase in the cost of tickets.
"Caribbean Airlines will not raise any prices and there is a fare structure that we will observe. We are looking to bring in additional flights next week or the following week to alleviate short term, in the medium to long term we hope to have our own aircraft operating from Georgetown to New York and to Toronto. We talked this morning, the meeting was quite productive and passengers can rest assured that Caribbean Airlines will want to live up to our name and truly be a Caribbean Airline," Moonan said.
"This is the opportune time for Caribbean Airlines to truly be the airline of the Caribbean … and we will work together as a team to see how we can solve the immediate problem," Moonan stated.
The CAL Chairman noted too that while CAL has already begun taking up bookings the airline will be looking to add an additional carrier for a more long-term solution and will be seeking government support for this to be a success.
The statement said while it is not quite clear just how many passengers were affected, efforts are underway to get the figures from EZjet so that CAL will be able to accommodate all those affected.
Both Ali and Benn called the discussions fruitful and remained confident that the partnership between the government and CAL on this issue will resolve the situation.
"We had quite a good meeting with the CAL executives. The proposals offered will see a way forward for resolution to passengers to increase the load on CAL's outgoing flights and for additional flights being facilitated. There are requests which will require additional documentation and technical information. When this is done we intend to respond fairly quickly given the situation," Benn said after the meeting.
Ali reaffirmed that the partnership with CAL will be extended beyond the present situation and the CAL representatives reiterated their willingness to address the situation and to embrace suggestions that will lead to a "win-win" situation for both sides, the statement said.
Other issues raised at the high-level discussion included additional direct flights to NY and Toronto and the possibility of making Guyana a sub base for Caribbean Airlines, they also discussed the issue of cargo and air freight and airlift linking South America.
According to Ali, who is acting tourism minister, the interest remains in ensuring that the tourism sector remains vibrant and to ensure that air transport does not become a hindrance to the increase in arrivals to Guyana.
EZjet meanwhile has accused its carrier Swift Air of stealing its fuel and leaving passengers stranded, flying off to the US from Trinidad without informing the airline.
"We were forced to cancel all flights because Swift Air – who owns and operates the aircraft – took off without any notification and left EZjet without a carrier," the airline said.
"Several factors led to the suspension of services. On October 23, 2012 Swift delivered to EZjet a notice of cancellation. EZjet responded to Swift Air disputing the notice of cancellation. The notice of cancellation indicated that EZjet owed Swift Air money, when in fact Swift Air owed EZjet over US$630,000 in open invoices as well as another US$200,000 for amenities provided to passengers such as hotel, meals, and other charges relating to delays that were attributed to Swift Air. EZjet has consistently asked Swift Air to pay these invoices as the funds were needed to pay for EZjet's continued operations. As of today, Swift Air has not paid any of EZjet's invoices nor has it received a response to the dispute relating to the notice of cancellation," said EZjet in its statement.
The EZjet statement said that on Friday November 2 and Saturday November 3, Swift Air abandoned EZjet's passengers at the JFK airport and then in Georgetown to take another job of flying the Boston Celtics basketball team within the United States "using EZjet's fuel and airport services."
It said that no advance notification was provided to EZjet "and we could do very little to avoid this action of Swift Air."
It said on Wednesday, November 7, Swift Air put out already onboard passengers at Port-of-Spain, and then stranded JKF-bound passengers in Georgetown, in order fly an empty aircraft to Buffalo, New York, again utilizing EZjet's fuel and airport services to do so. "After the aircraft took off, Swift Air contacted the US DOT and TICO (in Canada) and notified that they intend to stop flying. No advance notification was provided to EZjet," said EZjet's statement.
On Thursday November 8, the DOT delivered to EZjet an email indicating that EZjet Air "has failed to act consistently with the requirements of 14 CFR Part 380."
The email said, "In the circumstances presented, we are requiring that EZjet Air Service Express must immediately cease advertising and operating flights filed under PC 12 119."
Comments

Vamanadev Hiralall, of the privately-run Saraswati Vidya Niketan (SVN), is the country's top performer at this year's Caribbean Advanced Proficiency Examinations (CAPE) after achieving an accumulated 13 grade one and 3 grade two passes.

Twenty-six students in the top one percent of the 12,684 who sat this year's Caribbean Secondary Education Certification (CSEC) examinations earned 12 or more Grade I passes, with half of them, including the top performer, coming from Queen's College (QC).

On the second day of the Commission of Inquiry (CoI) into African ancestral lands and other matters, four witnesses made cases for the return of lands they feel they are rightly entitled to, which were either taken by the state or occupied by private owners.

Shelton George, the man charged with both murdering a waitress at a Chinese restaurant and the attempted murder of a magistrate, was found dead in his cell at the Lusignan Prison yesterday morning.

The Chairman of the Triumph Neighbourhood Democratic Council (NDC) yesterday instructed workers employed on a private site, reportedly intended to build a first-floor pool, to cease operations, just two days after residents called on authorities to halt its construction.