Growing up Murphy Franklyn 'limed' in a shop that made shoes but it took a literal slap behind his head by the owner to propel him in the direction of learning the trade which later gave him  earning power.
Now more than twenty years later Franklyn is on a mission to establish his own shoe repair shop and impart his knowledge to youngsters, as he feels the trade is dying. It could be said that he is half way to owning his own store, if you take into account the fact that he already has a base of operations. But he does not consider the small one-square-foot mobile structure he has now in Tiger Bay to be a shoe repair shop, and views it just as a temporary set-up. The spot where he has his mobile operation, nevertheless, is ideal, as it is just opposite an empty plot of land that up to recently accommodated the Foreman's shoe repair shop. That shop is no more but the area  still attracts customers for shoe repairs and Franklyn has been thriving on this for the past few months.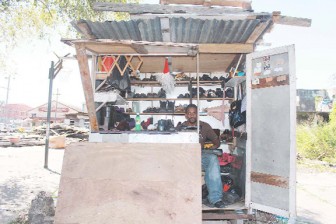 And so on reflection, he views the fact that he was dumped a few months ago from the employ of the man who operated the Foreman's shop after the building was sold, as a "good thing and a bad thing." His former employer has set up shop at two other locations, but Franklyn said he was the only employee who was fired, and candidly admitted his ex-boss had described him as a "trouble-maker." He does not see it that way, and described himself as not "taking stupidness and always standing up fuh what is right."
So his firing left him unemployed with nine children to support, but it forced him to get up and do something about it, and he quickly decided to take advantage of the fact that the area was synonymous with shoe repair and therefore opened 'Murphy Franklyn's Shoes and Bag Repair Shop.' It is far a cry from a real shop, but Franklyn has high hopes of being allowed "a little place to rent," when the new owner of the land where Foreman's once stood decides to build. If not, he hopes he would be able to "build a real mobile shop" and operate next to the building. And if Franklyn has to build a bigger mobile shop it would not be an ordinary one, as he hopes that it would include toilet facilities and a seating area for his customers.
"It is a convenient place and most customers are just happy to drive through and drop off their shoes instead of having to go and look for parking and then come back," he said.
"But for many years I have wanted to do this… [own his own business] and I was forced into doing it and it seemed bad at first but is very good now and I am not very young any more and I would have a business running and train some youngsters to give them knowledge into shoe-making," Franklyn told the Sunday Stabroek.
He is still not clear about how he would impart his knowledge, as first he would have to fully establish his business and increase his earning power. Nevertheless he hopes that "before I die I can impart my knowledge."
It is now a dream but it is one that he hopes would become a reality soon and that he can really establish himself as the man with the hands which rescue shoes and bags from the brink of the rubbish heap. And it is not just repairs he offers; he also puts the skills he learnt in shoe-repairing to the making of leather sandals.
Franklyn has been operating his shop for the last five months and he describes business as "up and down," but he pledges to persevere.
It was 18 years ago that he was employed at Foreman's as a cobbler, and while he did leave a few times when he got upset with his employer he always returned.  Before his former employer took over the shop it was known as Foreman Electrical Shoe Shop but after that owner died the building was taken over by trustees. His employer, who had been an employee of Foreman, was then allowed to rent the building still carrying its trademark Foreman name until the trustees sold the building recently.
Reflecting on how he got into the shoe business Franklyn said he was a youngster when he was told by a friend about a shop in Alberttown owned by Charlie De Nobrega that made Clarkes shoes and sold them locally.
"When I got there I never use to really work; I use to be there running around the place talking and doing all kinds of nonsense and one day I was sitting and I didn't know the boss came until he slapped me behind my head and told me, 'You are a dam fool, you are stupid you don't want to learn? If they don't want to teach you, you stand up and you watch and you would have knowledge in your brain.'"
He concedes that the man may have "slapped some senses into my head," because from that day onwards he made an earnest effort to start learning – and learn he did.
"I started to look how the guys were doing things, and one day he told me to sit and show me how to cut out leather, how to stitch and then I start stitching and making shoes… and that is how I get into it and it was very good because today I know a lot, but I am still learning a lot in terms of the repairs."
He taught himself how to repair shoes and he is quick to state that he learnt nothing from Foreman's as "I went there with all my knowledge and what I did was just improve." In addition to giving old shoes a new look, he also does the same for bags, and a lady can quickly have a bag strap that might have outlived its usefulness return to its pristine state once it is placed in Franklyn's hands.
Comments

Several hundred more sugar workers are expected to be laid off from the Skeldon, Rose Hall, and East Demerara estates by next month and the Guyana Agricultural and General Workers Union (GAWU) yesterday urged that the decision be reviewed.

The commencement order establishing the Telecommunications Agency was signed last Friday, in anticipation of the liberalisation of the telecoms sector, Minister of Public Tele-communications Cathy Hughes announced yesterday.

Nickela Craig-Singh, the woman who was arrested last Friday after the Customs Anti-Narcotic Unit (CANU) found over 10 pounds of cocaine in the ceiling of her Soesdyke home, was yesterday sentenced to four years in prison and fined over $14 million after pleading guilty to possession of the drug.

Almost two weeks after he made a Facebook post in which he questioned whether the Indian High Commission was interfering in Guyana's internal affairs, Director of Public Information Imran Khan yesterday said that he regretted the "furore" his post created and admitted that it should have benefitted from "greater elegance or not have been made." After public reprimand and criticisms coming from even within the government, Khan, who initially staunchly maintained that he voiced his concerns in his private capacity as a citizen, said in a recent post on the issue that he now appreciates how persons may have interpreted his views as being some way reflective of the office he holds.
A young man seen in a recent viral video being brutally murdered in neighbouring Venezuela has been identified as a Port Kaituma miner.