The Housing Ministry's Central Housing and Planning Authority (CHPA) yesterday signed a Memorandum of Understanding (MOU) with National Hardware Guyana Limited (NHL) that allows low, moderate, and middle income families to acquire building materials and home furnishings at wholesale prices, the Government Information Agency reported.
Director of Operations, CH&PA Denise King Tudor and Director, National Hardware Guyana Limited, Nicholas Boyer, signed the agreement in the boardroom of the Ministry of Housing and Water at Brickdam, GINA said.
GINA said that the CH&PA has signed similar agreements with hardware stores, but this is the first agreement that moves beyond building materials and covers home furnishings.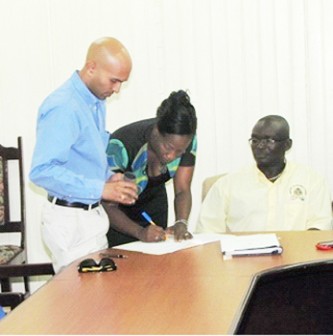 "I think this is a welcome addition, this will move towards now having the family fully equipped and benefiting from the entire stream of necessity, in not only acquiring their home now, but also furnishings and living in their homes," Minister Irfaan Ali declared.
This is also the first case where an MOU has been signed with a hardware store that extended the concession beyond low income families to moderate and middle income families.
Boyer said that the company was thankful to the ministry and the CH&PA for affording them the partnership.
"Our goals are basically the same, to benefit the consumers and we are happy to help them, especially the allottees and those who will be new home owners and first time homeowners through the process from the point at which they need cement at the start of construction to the point at which they need sofas at the end of construction," the National Hardware Guyana Limited Director stated, according to GINA.
Qualifying families would first have to obtain from the Housing Ministry a letter enabling them to receive the concession which translates to a 15-20 percent discount on the materials.
Comments

UN experts condemn racist violence in U.S., urge investigations GENEVA, (Reuters) – United Nations human rights experts called on the United States today to combat rising racist violence and xenophobia and to prosecute perpetrators of hate crimes.

The twin-engine Beech aircraft seized by authorities on an improvised airstrip on Sunday in the North Rupununi, Region Nine area, was yesterday confirmed as bearing a registration number belonging to an investment company in Brazil.

ExxonMobil yesterday signed a deal with Guyana Shore Base Inc (GYSBI) for an onshore support facility at Houston on the East Bank of Demerara.
While students who sat Caribbean Examination Council (CXC) exams in May and June of this year will be able to access their results online on Friday, the Ministry of Education has already announced that Guyana has recorded a 7% increase in passes at the Caribbean Advanced Proficiency Examinations (CAPE).

A post-mortem examination is expected to be done today to determine the cause of death of a nine-month-old baby, who died on Monday after she was left in a car.