Waves reaching over nine feet in height disrupted seawall vendors who turned out early yesterday afternoon to set up their stalls along the route for the annual Diwali motorcade.
When Stabroek News arrived at the Kitty seawall, many stall holders were seen putting up tents and offloading stocks to be sold at yesterday's event.
Some, however, were concerned, saying that they made many attempts to set up the stalls but because of the constant waves crashing over the sea defence, a lot of time was wasted and some of their goods were damaged after being splashed by the salt water.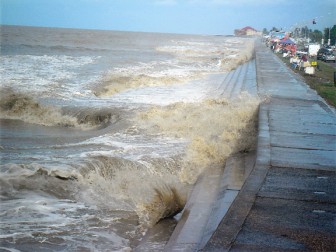 However, others said the waves did not affect them and they expected them to subside by nightfall.
Stall holder James Percival told this newspaper that the waves started to rise to a noticeable height about noon yesterday.
"People start moving them thing, thinking that the waves dem ain't hitting a certain section, but after they see this ting wetting all over, they just decide fa stay weh they deh, rather than lose the spot wah da wait whole morning for," Percival noted.
High tides have been forecast over the next few days.
Video
Comments

A sketch of the proposed Curepe Interchange (Trinidad Guardian) China Railway Construction Corporation (CRCC) has been awarded a $221.7 million contract by the National infrastructure Development Company (Nidco) to build the controversial Curepe Interchange, the state company's chairman Herbert George has confirmed.

Legal Advisor to the Police, retired Justice of Appeal, Claudette Singh yesterday testified that there was insufficient evidence in the allegation made by Andriff Gillard of an alleged plot to assassinate President David Granger.

Today at 2 pm the 30 councillors of the Georgetown City Council will once again cast a vote on the future of metered parking in the city and several of them have told Stabroek News that they want to be sure their vote accurately represents a mandate from residents.

Crime Chief Wendell Blanhum yesterday made a written request to be recalled before the Commission of Inquiry (CoI) investigating the allegation of a plot to kill the President of Guyana to defend himself against "appalling" statements made by Assistant Commissioner of Police David Ramnarine.

Two men were yesterday remanded to prison by a city magistrate after they were charged with the fatal stabbing of Rawle Rodrigues which occurred in January.