Former Chief of Staff of the Guyana Defence Force (GDF) Major General (rtd) Michael Atherley will head the inquiry into activities of the Ecuadorean-registered 421 Cessna plane found abandoned at an illegal airstrip in the interior last month.
The five-member team that will conduct the inquiry will be sworn in this weekend and begin its work as soon as next Monday, Head of the Presidential Secretariat Dr Roger Luncheon said yesterday.
Luncheon could not recall the names of all the members of the team, but he noted that Private Sector member Gerry Gouveia will be the Private Sector's representative on the team. Luncheon said that the five will be picked to include the public and private sectors, a member from civil aviation authority and the army and police.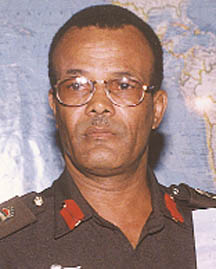 On October 27, the aircraft was found abandoned at an illegal airstrip at Pirara in Region 9, way off of its projected route and without any sign of the Brazilian pilot, Gonçalo Ferreira Lima Neto, who was the lone occupant. It was repainted and its registration number was changed from Ecuadorian to Venezuelan after it had left Ogle Airport destined for Brazil. It was also equipped with extra fuel tanks and pumps, indicating that its destination was not where it had been logged to go.
The plane had arrived in Guyana in August from Trinidad on what Transport Minister Robeson Benn said was a technical stop.
Comments

The improvised weapons (Prisons photo) Prison Staff this morning with the support of the members of the other services, reported for duty at the new holding area lusignan Prison.

Nicolas Maduro CARACAS/LIMA, (Reuters) – A group of 12 regional nations plus the United States rejected Venezuela's new government-allied legislative superbody, saying they would continue to regard the opposition-controlled congress as the country's only legitimate law maker.

Eighteen prisoners at the Lusignan penitentiary were being treated for injuries last night following a reported attempt to kill a fellow inmate during which warders fired shots.

A 12-year-old girl is now dead, while her brother narrowly escaped a similar fate yesterday after their aunt's La Bonne Intention (LBI), East Coast Demerara house, which they were under, collapsed on them.

Guyana has officially applied for membership in the European Union's Extractive Industries Transparency Initiative (EITI) which will help in tracking revenues from oil and other natural resources.