Ghanaian-born, former Dean of Natural Sciences at the University of Guyana, Professor John Caesar, passed away on Saturday evening at age 58, at the Georgetown Public Hospital after completing surgery on Wednesday and dialysis.
Caesar, a naturalized Guyanese for the last 20 years, was also a Senior Lecturer at the University of Guyana and had been  Chairman of the National Parks Commission Board. He was also on the Public Utilities Commission.
He served as Chairman of the Board of the Guyana Forestry Commission and was a well-known member of the National Protected Areas Commission Board.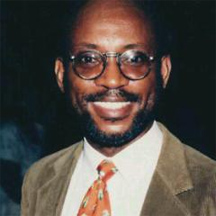 A statement yesterday from the Minister of Natural Resources and the Environment, Robert Persaud described Caesar as one of Guyana's premier botanists. The statement said that Caesar dedicated over 23 years of his life to the environmental issues of Guyana and was committed to the education of a generation of University of Guyana Biology graduates.
Persaud expressed his condolences to the family and friends of Caesar, saying that his legacy will live on for years to come.
Comments

Vamanadev Hiralall, of the privately-run Saraswati Vidya Niketan (SVN), is the country's top performer at this year's Caribbean Advanced Proficiency Examinations (CAPE) after achieving an accumulated 13 grade one and 3 grade two passes.

Twenty-six students in the top one percent of the 12,684 who sat this year's Caribbean Secondary Education Certification (CSEC) examinations earned 12 or more Grade I passes, with half of them, including the top performer, coming from Queen's College (QC).

On the second day of the Commission of Inquiry (CoI) into African ancestral lands and other matters, four witnesses made cases for the return of lands they feel they are rightly entitled to, which were either taken by the state or occupied by private owners.

Shelton George, the man charged with both murdering a waitress at a Chinese restaurant and the attempted murder of a magistrate, was found dead in his cell at the Lusignan Prison yesterday morning.

The Chairman of the Triumph Neighbourhood Democratic Council (NDC) yesterday instructed workers employed on a private site, reportedly intended to build a first-floor pool, to cease operations, just two days after residents called on authorities to halt its construction.