Former Head of the University of Guyana's Law Department, Professor Calvin Eversley, LL.M (Harvard), LL.B (Honours), died on Wednesday  at the Balwant Singh Hospital after a brief illness.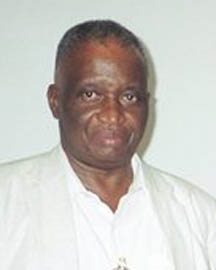 Eversley, 63, had his Law Chambers on King Street.
He served as a full-time Professor of Law at the University of Guyana's Department of Law, for the LL.B Programme for the periods November 2008 – August 2009 and September 1, 2010 to July 31, 2011.
Eversley published a number of books.
He was also a member of many professional organizations and bodies such as the American Bar Association and the New York Bar Association.
Comments

Dawn Hastings-Williams President David Granger, today, announced that Minister within the Ministry of Communities,  Dawn Hastings-Williams will assume the portfolio of Minister of Public Affairs in the Ministry of the Presidency with effect from September 1, 2017.

President David Granger, earlier today, attended the wedding reception of Minister within the Ministry of Communities with responsibility for Housing, Valerie Patterson- Yearwood and .

Grace Mugabe   JOHANNESBURG,  (Reuters) – South African police confirmed on Wednesday that Zimbabwean first lady Grace Mugabe remained in the country and had applied for diplomatic immunity after being accused of assaulting a 20-year-old model in an upmarket Johannesburg hotel.

Daniel Craig   LONDON, (Reuters) – British actor Daniel Craig has confirmed he will reprise the role of James Bond one last time, ending months of speculation.

UN experts condemn racist violence in U.S., urge investigations GENEVA, (Reuters) – United Nations human rights experts called on the United States today to combat rising racist violence and xenophobia and to prosecute perpetrators of hate crimes.